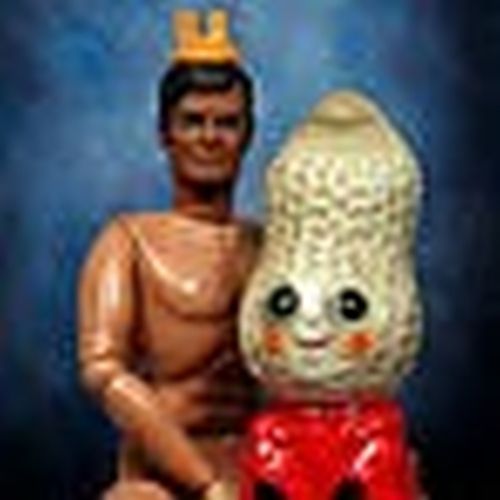 Hello, my name is CW Wells,
and I'm a doodle addict.
Philadelphia
C W Wells's sculptures and works on paper are ambassadors that have spilled out from her private world, mere fragments of a vast and complex oeuvre. Her studio and home in South Philadelphia is an archive, kept well stocked with an arsenal of supplies like brushes, clays, glazes, toys, molds, tiny clothes, dolls, and tchochkes. Action figures designed by artists Marcel Dzama and R. Crumb share shelf space with Gumby, Yogi Bear, and other old-school cartoon personalities. There are model trains and dollhouse miniatures, paint-by-numbers, vintage collectables, and two live bunnies. Wells began working in ceramics around 1996, making connections at the Clay Studio and Snyderman Gallery, two prominent Philadelphia galleries that specialize in contemporary craft. Since that time, her work – always figurative – has grown more delicate, and rough stony surfaces have given way to fragile porcelain skin and delicately painted faces. This eccentric arsenal is used to create miniature scenes. Like setting a stage, Wells employs little toys, dolls' clothes, and other discarded or precious ephemera. This interest in readily available materials is deceptive, because Wells is a master craftsman. The plastic faces of the dolls are hidden by miniature ceramic masks, which she fabricates from molds. The masks may suggest Frankenstein, or perhaps hint at Captain America, but once they are positioned in the scene, they become something else: provocative, distant. Poseable and reposeable plastic arms carry great mystery, and the blackest humor. They help create still scenes full of life and drama. It is part of Wells's nature as a collector to be eternally unsatisfied, and this extends to her artmaking. Similarly, her process never seems finished, either. She is ever changing the scene, adjusting the lighting, and finding another transformation to explore. Wells then photographs these scenes, adding yet another finicky layer to her process and easily turning her comfortable grasp of three-dimensional space into flat images, despite her lack of training. She never feels finished with a piece, and has even been known to remove pieces from gallery walls after a show and remake them entirely. These photographs, accessible only on her Flickr website page, are clearly secondary to the posing and rearranging that precedes them. Whether in bright Technicolor or cool black and white, they are not immediately accessible. Like walking into a dark room, you must allow your eyes to adjust. There is an electric charge generated by the different components of a composition that transports them beyond their humble substance. Roland Barthes, the French writer and philosopher, said that the gaze of the camera is deathlike, eternally petrifying its subject. In Wells's work, however, it is precisely from this captured stillness that life and dynamic tension spring. Just as the objects within are only a few of the figures and props from her collection, these scenes are mere snippets of personal narrative. Study them and they don't seem so far away. Sometimes a mask is needed to reveal the truth, but in Wells's work, masks are the only truth. Behind them, there is no human face – only a hundred more masks, a thousand other stories.
CW Wells has not set any favorites.