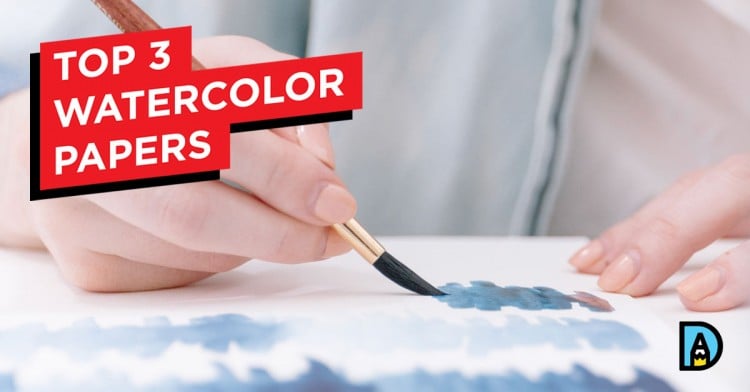 If you are passionate about working with watercolor and want to create watercolor art using high-quality materials, we've assembled our choices for the best watercolor paper below.
How to Choose the Right Watercolor Paper
Choosing the right watercolor paper can be a little tricky due to the wide number of products on the market. To help you make the decision, we will share the key considerations to keep in mind when choosing watercolor paper and identify three of the best products on the market.
What is Watercolor Paper Grade?
Commercial watercolor papers are usually classified as either artists' quality or student quality. Student quality is much more affordable, but of lower quality. It is useful for practicing but don't expect work completed on student paper to maintain the same vibrancy and quality after a few years. Student quality watercolor paper is typically machine-made.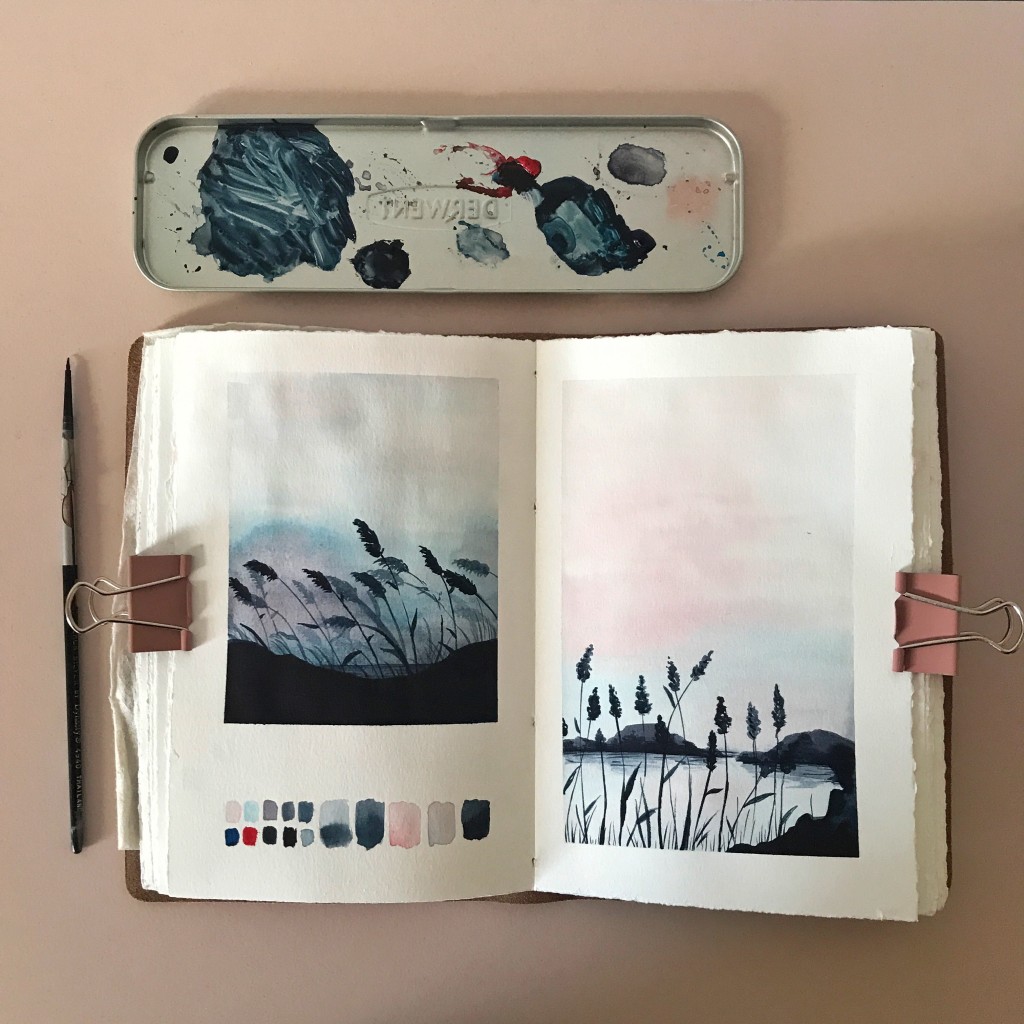 Watercolor Art by Anna Thomsen
Artists' quality (archival paper), is special acid-free paper which is designed to last many years. It should be used when you are creating a work that you intend to keep for a long time.
What is the best watercolor paper material to use?
Virtually all watercolor papers are made from a combination of water and cellulose fibers. However, the type of fibers used can vary. Archival papers should always be 100% cotton, which is very strong and stable. Cheaper paper often used a combination of cotton and other fibers or wood pulp. Cotton paper is the best choice if you would like to see the artwork looking fantastic for many decades or if you are using harsh techniques on the paper.
There are also synthetic watercolor papers available, which are made from synthetic materials like polypropylene. When water color paint is applied to synthetic watercolor papers, it sits above the surface, which helps the paint retain its vibrant color. Synthetic materials are also useful for silk-screening and offset printing.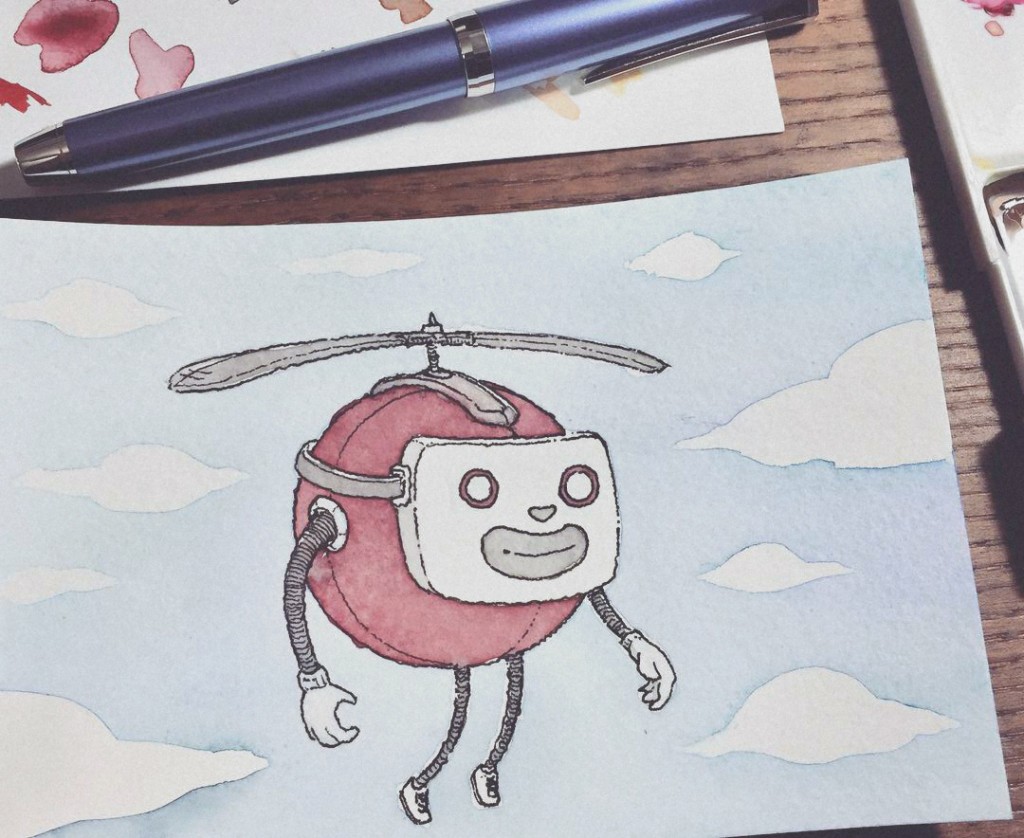 Watercolor Art by Junkyard Sam
Watercolor Paper Production Method
There are three processes used to make watercolor paper — machine-made, handmade, and mold-made. Paper that is hand-made is usually the best quality, followed by mold-made. These papers are extremely stable, durable, and won't distort easily. They are also more pleasurable to paint on because of the even quality of their surfaces. Machine-made paper is cheaper, but prone to deterioration.
Watercolor Paper Tinting
While the most common watercolor paper colors are white and creme, it is also possible to buy other colors, which may be useful for some projects.
Does the texture of watercolor paper affect artwork?
The texture of the paper will vary based on the production method and materials used, in fact, the same texture can be vary from brand to brand. There is no "best" texture and artists have different preferences in terms of texture. A product's texture is usually placed into one of three categories:
Hot-press (Smoothest)
Hot-pressed watercolor paper is very smooth and hard. It is useful for detailed work, however, it is more difficult to control paint on this type of surface.
Cold Press (Rougher)
This is the most popular watercolor paper texture. It is versatile and easy to work with. It can be used for both smooth washes and detailed work.
Rough (Roughest)
This product is the best for washes as if gives more vibrancy to the paint.
Watercolor Paper Form Factor
Watercolor paper is available in binders, notepads, rolls, panels, and blocks. It is also available in many different sizes. It's up to you to choose the form factor and size you require for a specific project.
The Top 3 Watercolor Papers
After extensive research and with the help of our art community, we have compiled the best watercolor papers currently on the market. We will continue to keep this list up to date as new watercolor papers are introduced.
Canson Arches Cold Press Watercolor Pad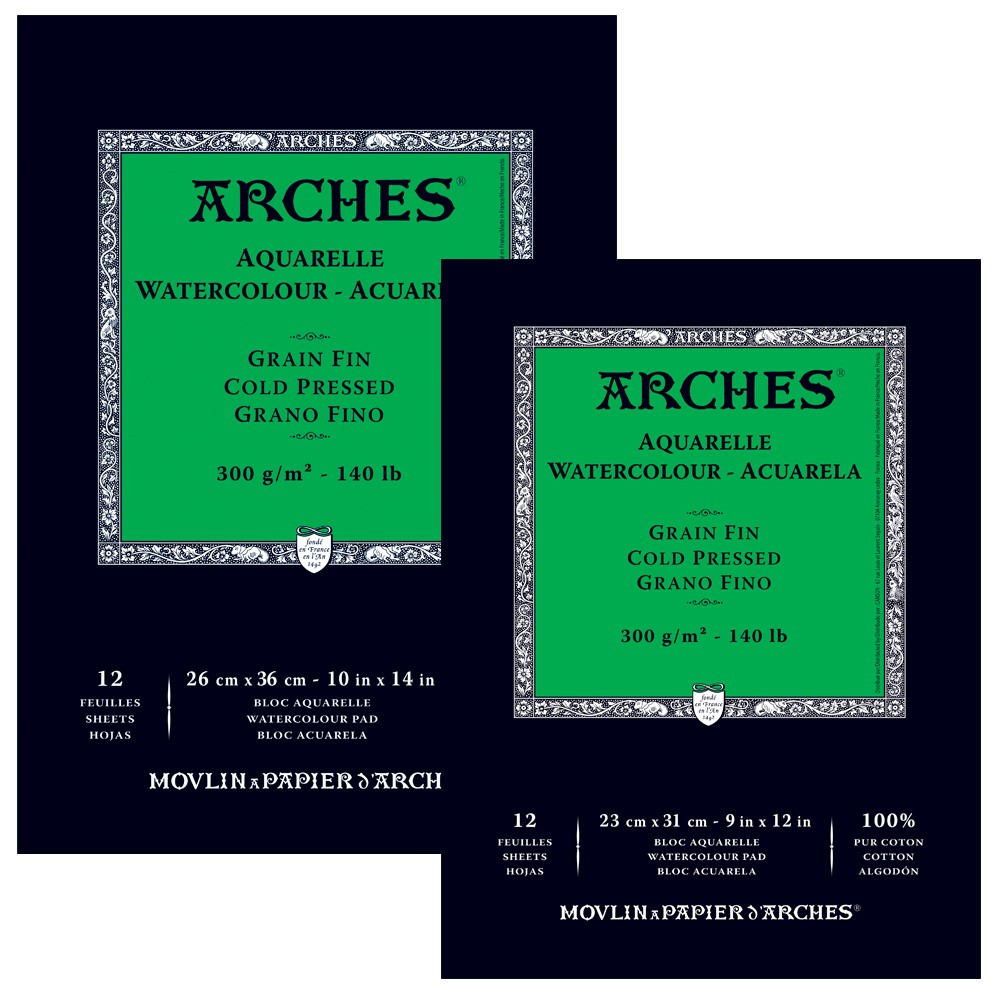 Arches is one of the world's most popular brands of watercolor paper. This product is an Artist Grade paper made from 100% cotton. It is acid-free which improves the longevity of the paper substantially. Arches is a cold press paper which makes it easier to use and adds plenty of versatility. Learn more about Arches watercolor paper.
Pros:
Archival grade, acid-free paper made from 100% cotton
Cylinder mold made with natural gelatin sizing
Anti-microbial agent to help resist mildew
Flawless surface
Cons:
ARTEZA Expert Watercolor Pad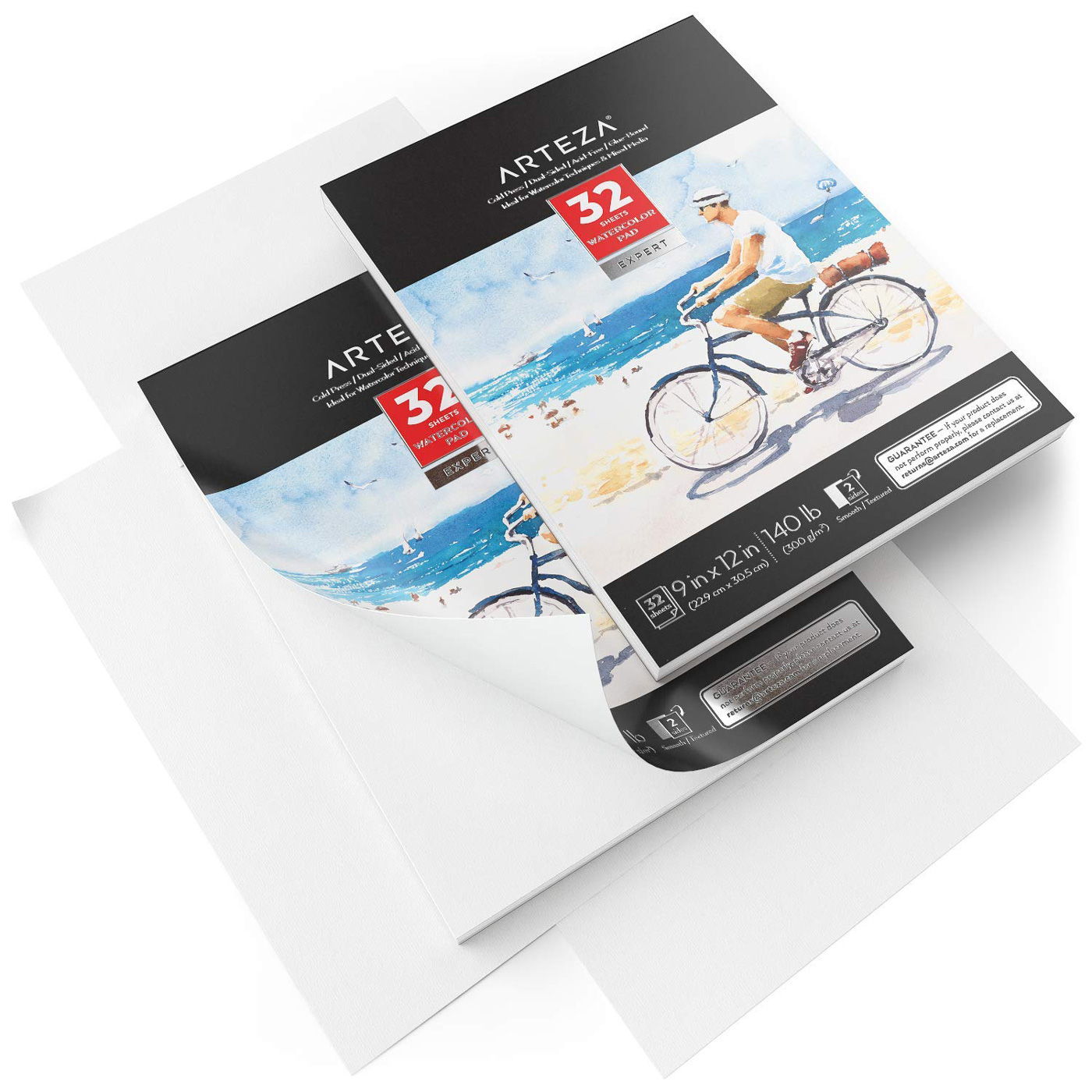 This is another extremely popular watercolor paper paper amongst professional artists. It is a pad containing 32 sheets of cold pressed, acid-free paper ideal for both watercolor and mixed media. The sheets are dual sided, with a textured and smooth side — providing the artist with more options. The sheets are glue bound, which makes it easy to tear a sheet off without it ripping. Learn more about the ARTEZA Expert Watercolor Pad.
Pros:
High-quality cold-pressed paper with no acid
Dual sided paper gives artists more options
Easy to remove sheets without tearing
Cons:
Legion Paper Tape Binding Watercolor Pad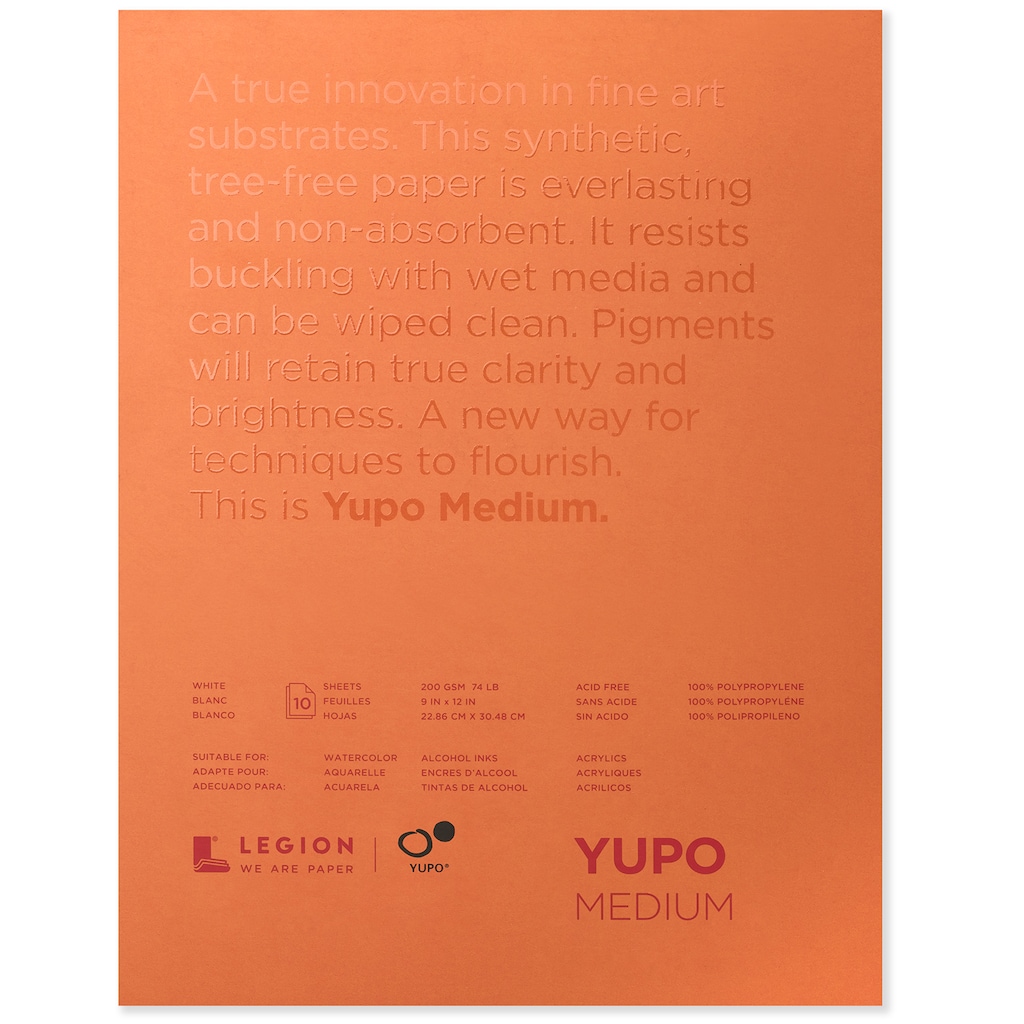 The Yupo Watercolor Pad contains synthetic paper made from 100% polypropylene. When painting water colors on this paper, the paint stays above the paper, instead of being fully absorbed. This gives the work a very vibrant appearance. It has an extremely smooth finish which makes it a pleasure to work on. The Legion Watercolor Pad is also waterproof, acid-free, and stain resistant. Learn more about the Legion Paper Tape Binding Watercolor Pad.
Pros:
Suitable for long-term storage
Beautiful smooth finish
Tape bound pad, making it easy to remove individual pages
Cons:
More difficult to control paint on such a smooth surface
Thanks for reading The Best 3 Best Watercolor Papers. For more art supply reviews, subscribe to the website.
---
Doodle Addicts independently selects all of the top products mentioned in our buyers guide without any outside influence. We may however make affiliate income from any product sold through our website. Thank you for your support!