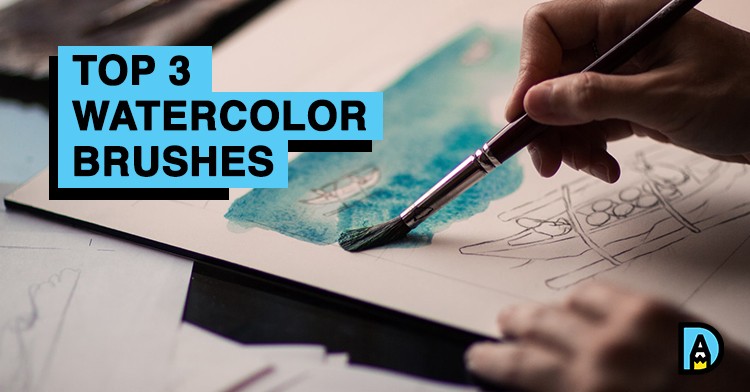 Top 3 Best Watercolor Brushes
The quality of your watercolor paintings is heavily influenced by the quality of the materials you use. Brushes are particularly important because they will determine how accurate and refined each stroke is. To help you achieve the best results possible, this post will offer some tips for choosing high-quality watercolor brushes and share the top 3 best watercolor brushes currently available.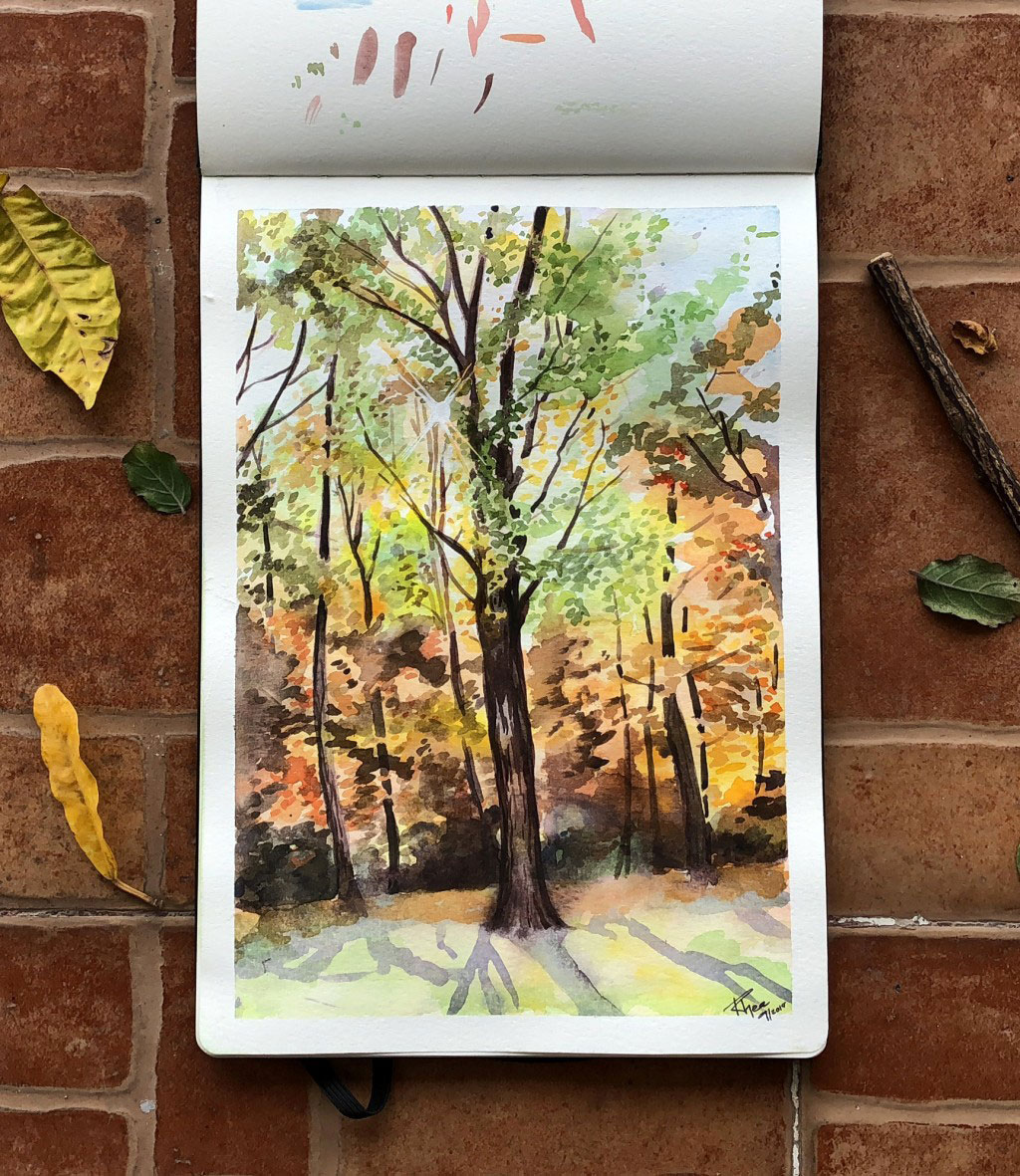 Watercolor Art by RdSketch
Tips For Choosing a Watercolor Brush
When you visit an art store, it's easy to feel overwhelmed by the sheer number of watercolor brushes that are on offer. Here are a few factors to keep in mind when making a choice.
Learn the Terms Involved
Artists use several terms to describe the characteristics of different kinds of watercolor brushes. Knowing these terms will let you read brush reviews and know what the reviewer is describing. The most commonly used terms include:
Brush Snap: The snap is how fast the bristles of the paintbrush snap back into a parallel position after being bent. The amount of snap you go for will depend on your personal preference and the kind of work you are doing.

Brush Capacity: Capacity refers to the amount of water and pigment that a brush can hold. The capacity of a brush is based on the type of hair the bristle uses and the belly size (learn the anatomy of a paint brush). The larger the belly, the larger the capacity of the brush.

Brush point: The point is how narrow the end of the brush is when wet. A narrow point is useful for fine work while a thicker point is better for washes.

Brush Spring: The spring is the resilience of the brush and how well it holds its shape. A brush with a lot of spring will keep a rounded belly shape as you use it. Brushes with little spring become splayed apart more quickly.

Brush Flow: How quickly the water and pigment is released from the brush. A good brush will have a consistent flow rate, so you can get a feel for exactly how much water and pigment will be placed on the page. Natural hair bristles tend to have better brush flow than synthetic brushes.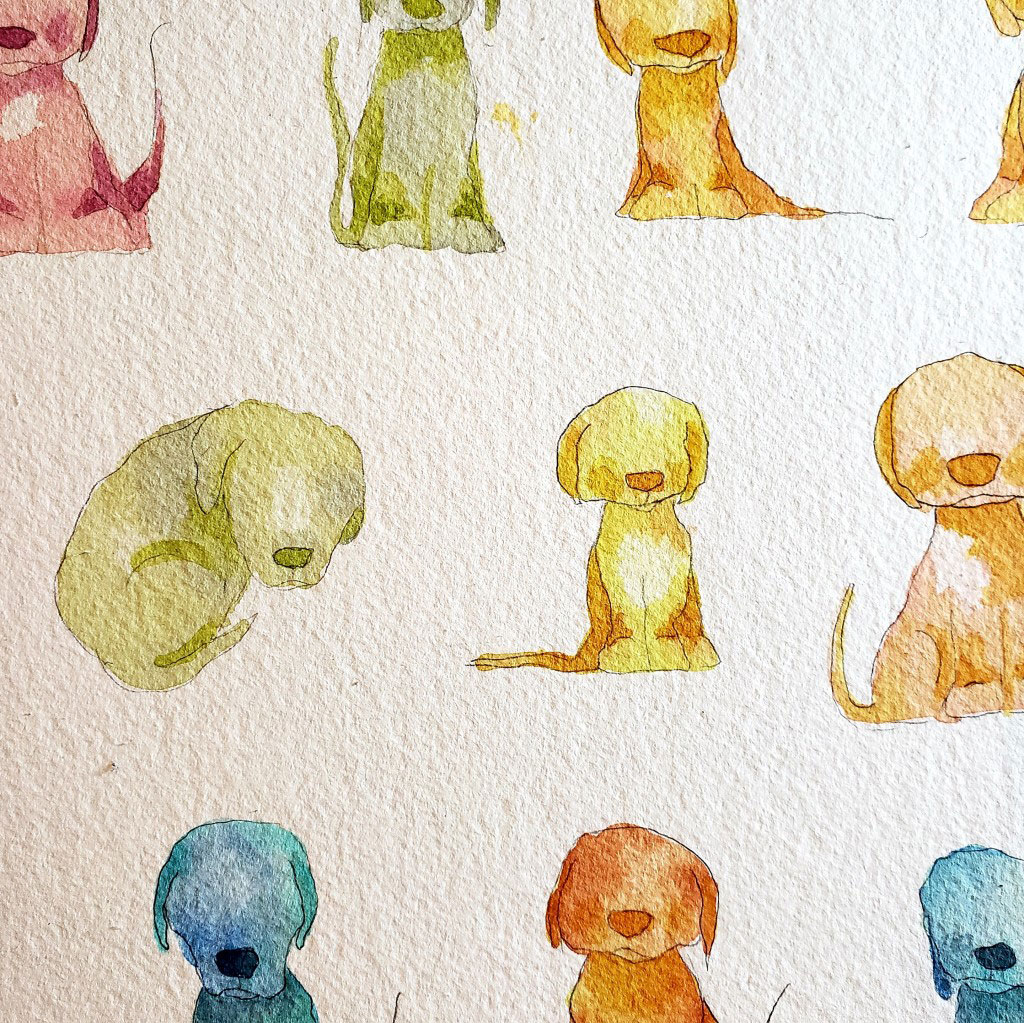 Watercolor Art by MaryAnn
What is the Difference Between Synthetic and Natural Brushes?
The type of bristles used to make the brush is the biggest determinant of its performance, resilience and cost. It is always important to consider the bristle material before choosing a brush. The most common types of bristle materials are:

Sable: A natural hair that comes from minks or weasels. It is a very soft bristle that is naturally springy and has a fine point. It is useful for creating fine detail in both watercolor and oil paintings.

Squirrel: Obtained from the tails of squirrels. Cheaper than sable, squirrel bristles are soft but have less springiness than sable.

Hog: Obtained from the backs of pigs (hogs), these bristles are tough and resilient. They are mostly used for oil painting.

Ox: Ox hair is long, springy, fairly thick, but lacks a fine tip. It is often used to make flat shaped brushes.

Goat: Natural hair from goats. It isn't a particularly springy material but forms a good sharp point.

Pony: Natural hair from horses and ponies. It is quite coarse and sturdy. Does not form a fine point and is often used in cheaper brushes.

Synthetic: Synthetic fibers like polyester and nylon are often used in more affordable brushes. These materials can work well, but synthetic fibers will not last as long as natural fibers and they don't hold paint as well.
Brush shape and size
There are many different watercolor brush shapes available. It is up to you to decide which shape and size you opt for. You can place most watercolor paintbrushes into the following categories:

Round Brushes: The most popular type of brush for watercolor work, it has a round belly coming to a fine tip. It is a very versatile brush which can accomplish many different tasks.

Flat Brushes: A square or rectangular brush with a straight edge. Useful for washes and straight lines. Flat brushes can be:
• Bright: A flat brush that is curved inward at the tip to make it shorter and springier.
• Angular: Cut at an angle so it works more like a round brush.
• Filbert: An oval shaped brush with a flat ferrule. A great option for painting foliage.

Wash Brushes: Wash brushes are designed to cover larger areas in pigment. The most common types are the mop, which has lots of soft hair (goat or squirrel commonly) and the Hake which is a handmade brush from Japan.

Detail Brushes: As the name suggests, detail brushes are useful for painting fine lines. There are two common types of detail brushes — spotters, which have a very short hair length and won't bend (useful for dots and fine details) and riggers, which have a long, thin bristles (useful for painting lines). Rigger brushes are often called liners or script brushes.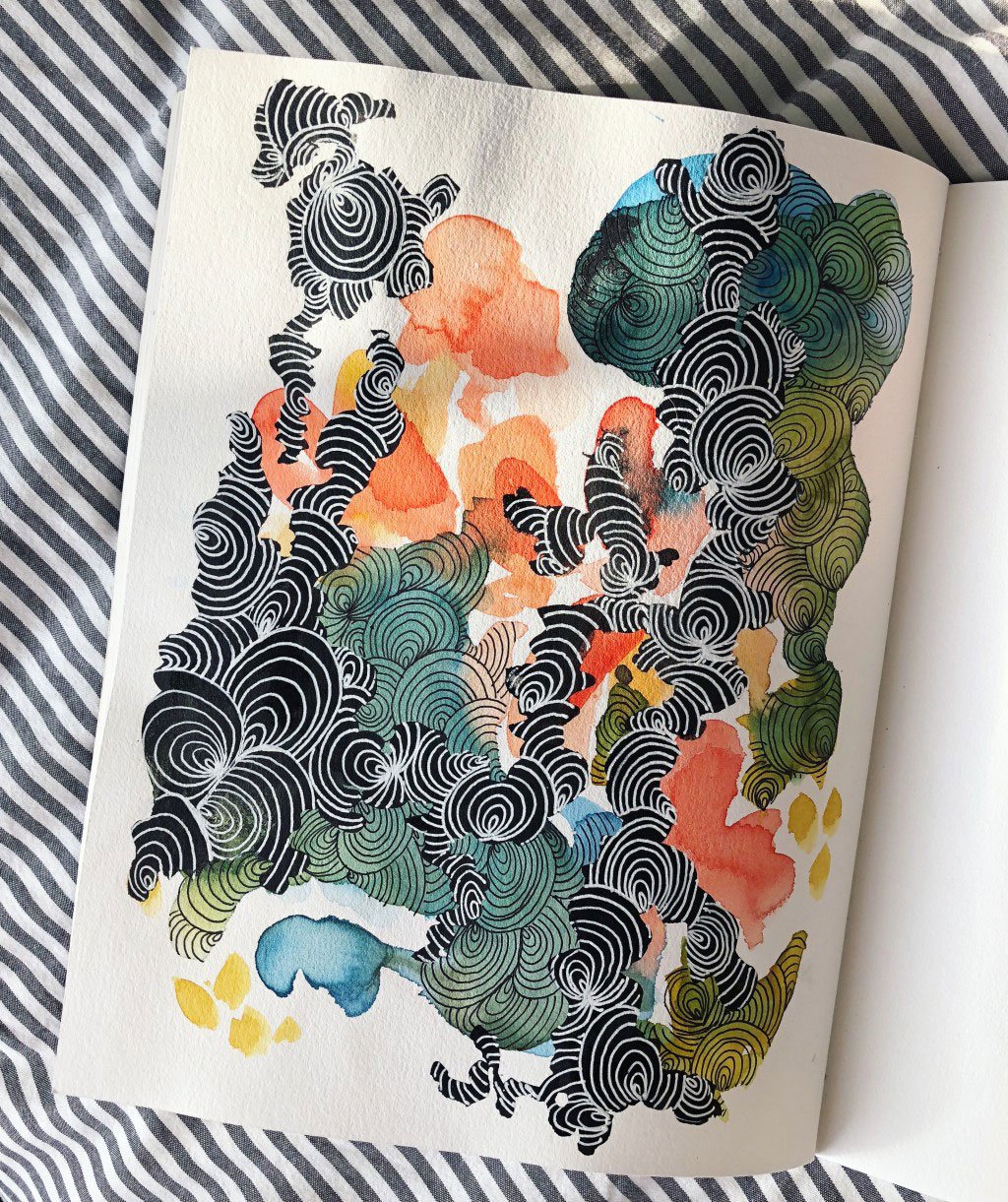 Watercolor Art by StephDillon
The 3 Best Watercolor Brushes
After extensive research and with the help of our art community, we have compiled the best watercolor brushes currently on the market. We will continue to keep this list up to date as new watercolor paints are introduced.
Heartybay 10 Pieces Round Pointed Tip Nylon Hair Brush Set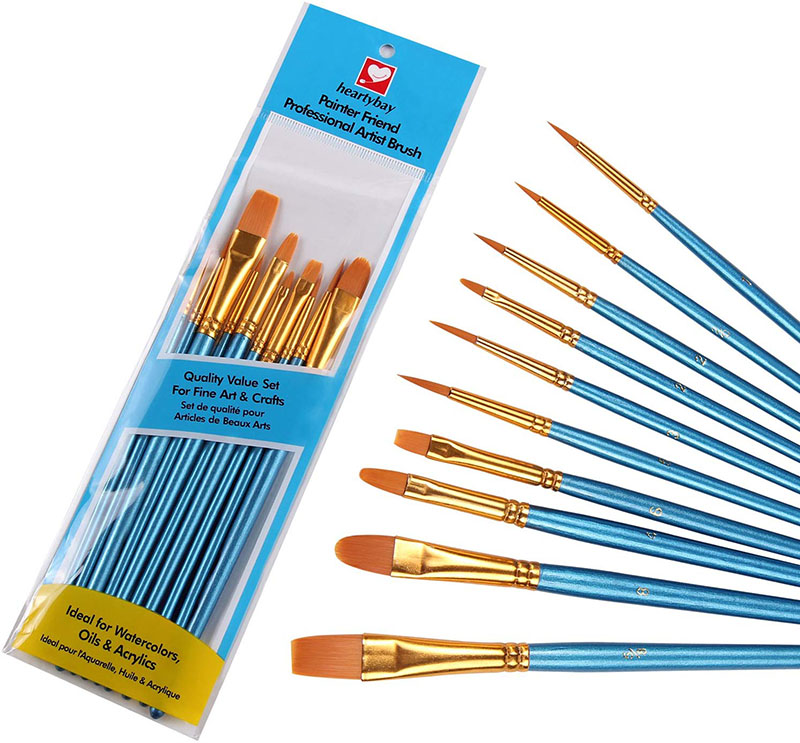 This is an affordable 10 piece brush kit ideal for students and beginners. It includes a wide range of brush types including multiple detail brushes, round brushes and flat brushes.

The double-crimped nickel ferrules are quite solid which means the brushes are not at risk of rusting prematurely or splitting. The short, rounded handles feel great in the hand and appear quite sturdy. Although the bristles are nylon, they seem have a decent brush snap and capacity. Learn more about the Heartybay 10 Pieces Round Pointed Tip Nylon Hair Brush Set.
Pros:
Good variety of sizes and tips

Nice quality for the price

Brushes do not fray or leave hairs
Cons:
Paint on brush handles can chip easily
Virtuoso 12-Piece Fine Paintbrushes, Handmade Detail Paint Brush Set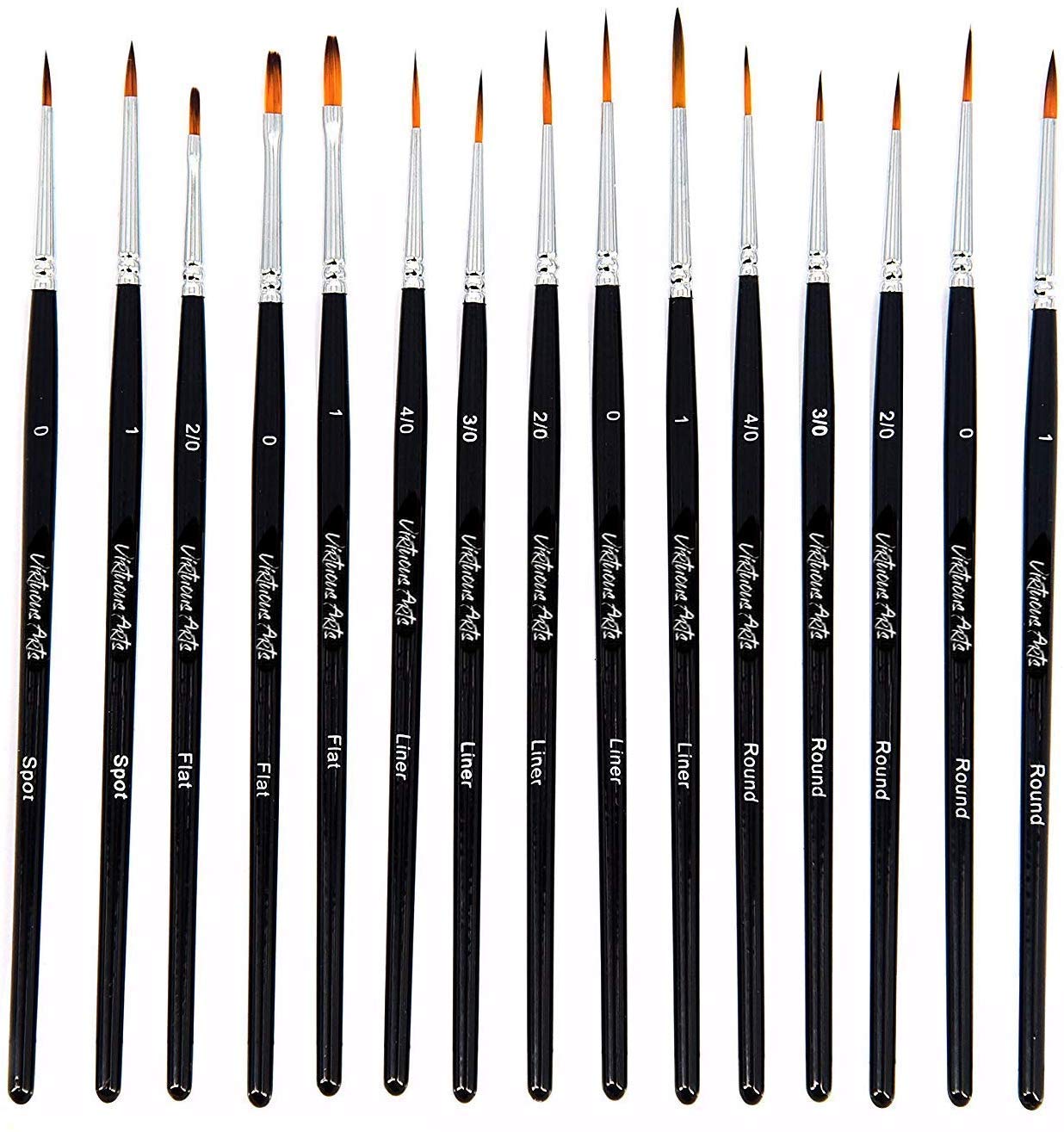 This is a very useful set of watercolor brushes designed for fine work. It contains round brushes (Sizes 4/0, 3/0, 2/0, 0 and 1), liner brushes (Sizes 4/0, 3/0, 2/0,0 and 1) and flat brushes (Sizes 0 and 1). These small brushes are perfect for drawing lines and fine detail in your art.

The brushes in this set feature short ergonomic handles which feel comfortable and give the painter excellent control over the brush. The synthetic bristles are flexible and allow for a very soft stroke — which favors fine line work. A great choice for professionals and amateurs alike. The brushes come in an attractive carrying case. Learn more about the Virtuoso 15-Piece Fine Paintbrushes.
Pros:
High quality and good value

Very fine points

Smooth and hold product nicely
Cons:
Brushes can fray after a period of use
Art Paint Brushes Set by Mont Marte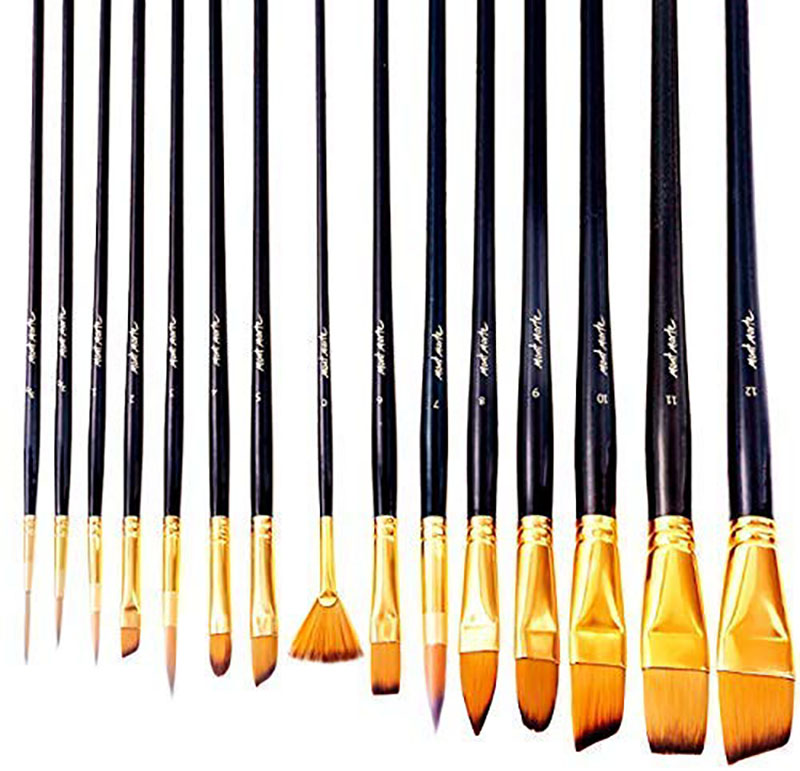 This set of 15 brushes is quite diverse in terms of sizes and brush styles. The brushes use a synthetic fiber called Taklon. It is a soft material with excellent capacity and spring — ideal for watercolor work.

The set include almost every brush style you would need including multiple flat, angle, filbert, round and rigger brushes. They are long-handled brushes that have very solid ferrules and minimal bristle loss. This set comes with a smart zippered carry case. Learn more about the Art Paint Brushes Set by Mont Marte.
Pros:
Resilient and consistent in their application of paint

Bristles are well formed and the handle is high quality

Good variety of brushes and they come with a carrying case
Cons:
Brush handles are long and the ferrule can be sharp

Thanks for reading Top 3 Best Watercolor Brushes. For more watercolor art supply reviews, subscribe to the site.
---
Doodle Addicts independently selects all of the top products mentioned in our buyers guide without any outside influence. We may however make affiliate income from any product sold through our website. Thank you for your support!