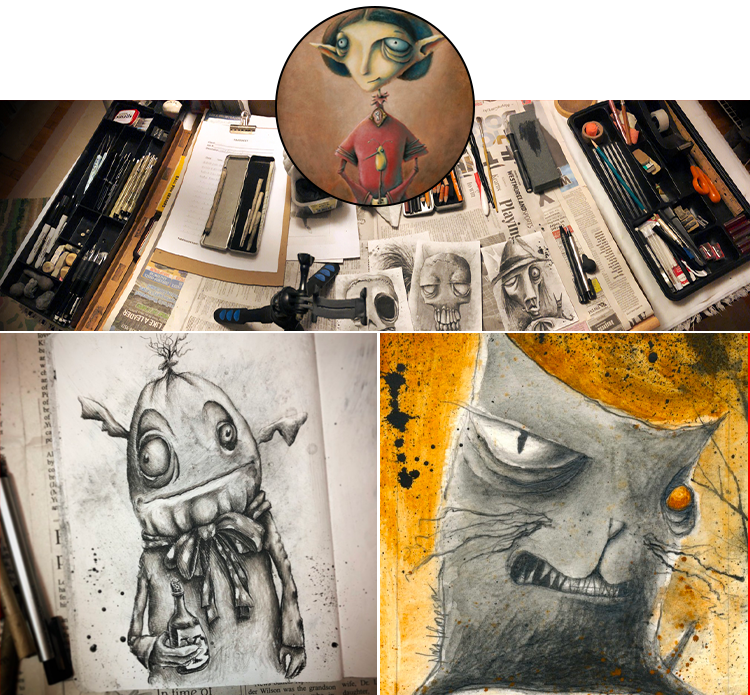 If you've spent any amount of time on the Doodle Addicts website, you're sure to have come across one of Nora Thompson's inquisitive creatures. With art being something she's been getting in trouble for since she learned to sign her name and discovered floors as a child, she has had plenty of time to develop her practice and highly unique style. She made her debut as a temporary tattoo artist in the second grade, graduated with her BFA at the top of her class at the age of 40, and also made the time to raise twins. She is an illustrator, graphic designer, fine artist and writer who has been an exhibiting artist since 1990 and illustrating professionally since 1992.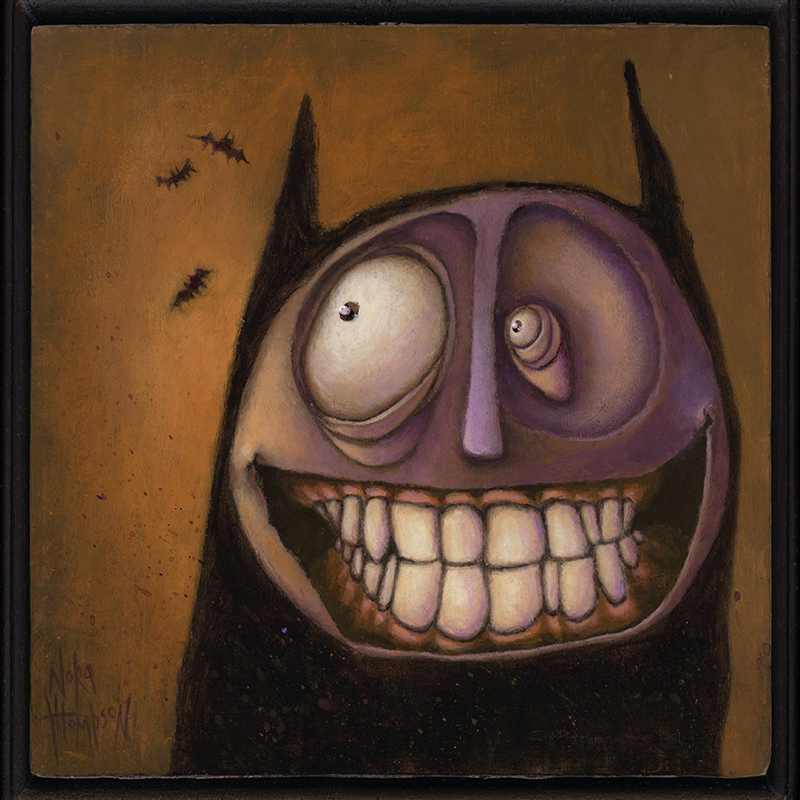 Even if you took just a few minutes to skim through Nora's work, it would become extremely evident that the characters she brings to life are both curious and beautiful in an unconventional way. All of her character work falls under a common name she's defined them by, The Rots, and they can range from a cat in a jester suit to a grotesque portrait of a creature you can't quite describe. However, regardless of which character you happen to stumble upon, they are all meticulously crafted and fleshed out with an amount of care and attention to detail that can be hard to come by. In describing her approach to creating a Rot, Nora says, "when I draw a Rot, I usually start with something spontaneous and see where it takes me, and almost all Rots start with the eyes." Take a look at any one of her artworks, and you'll see just how central and imperative the eyes are to the entire piece.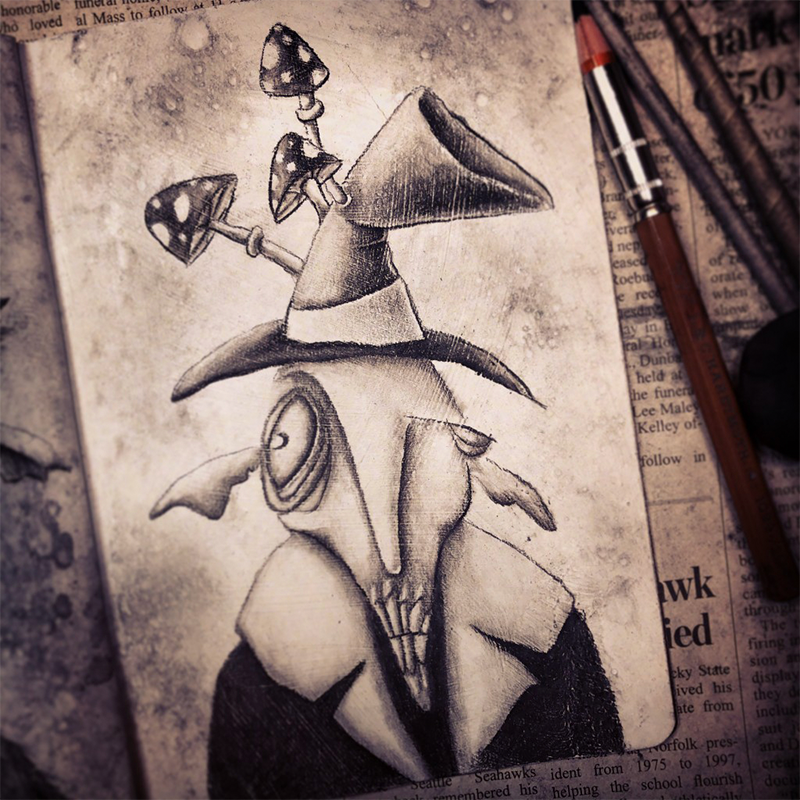 Equally impressive with Nora's work is how diverse her use of mediums are, with each new piece you never know what you're going to get. One of her most highly favored works on our website is titled, "Aubrey," which is a chalk on paper illustration of a crow.. This is highly contrasted by another of her most favored works titled, "Catty," that is a graphite and iron oxide from acid mine runoff on watercolor paper drawing of a cat. That is only just the beginning, and as you look through her work you'll see that she also dabbles in charcoal, acrylic paint, illustrating on wood, colored pencil, marker, and even using cabinet doors! There's so much that goes into Nora's art that it's probably best to hear more about it from her than us, keep reading to learn more about how her art came to be what it is today.
Interview with Nora Thompson
You have such a distinct and recognizable style that we love! How did this develop, and what has changed over the years in your approach to your art? Can you tell us how the characters you create and bring to life, The Rots, came to be?
It's funny. When you ask about my style, "How did this develop," I think of an old grade school friend who asked me once on Facebook, "What happened to you?" Meaning, "How did you get so weird?" For years I really did do traditional, safe art, and in retrospect, I feel like I needed to learn the rules before I broke them. I got to a point where I had been admiring so many artists who worked outside the box, and I wanted to be out there with them. I studied, studied, studied specifically what they did that made them so different and sat down with a sketchbook and just drew. For a very (very) long time, my attempts were pretty embarrassing, but I kept doing it anyway. I started drawing Rots in 2006. If you keep drawing and pushing past the first drafts to see how far you can go, after 14 years a style is bound to emerge. I still make embarrassing drawings, but now I have the experience I need to keep pushing them until they behave themselves.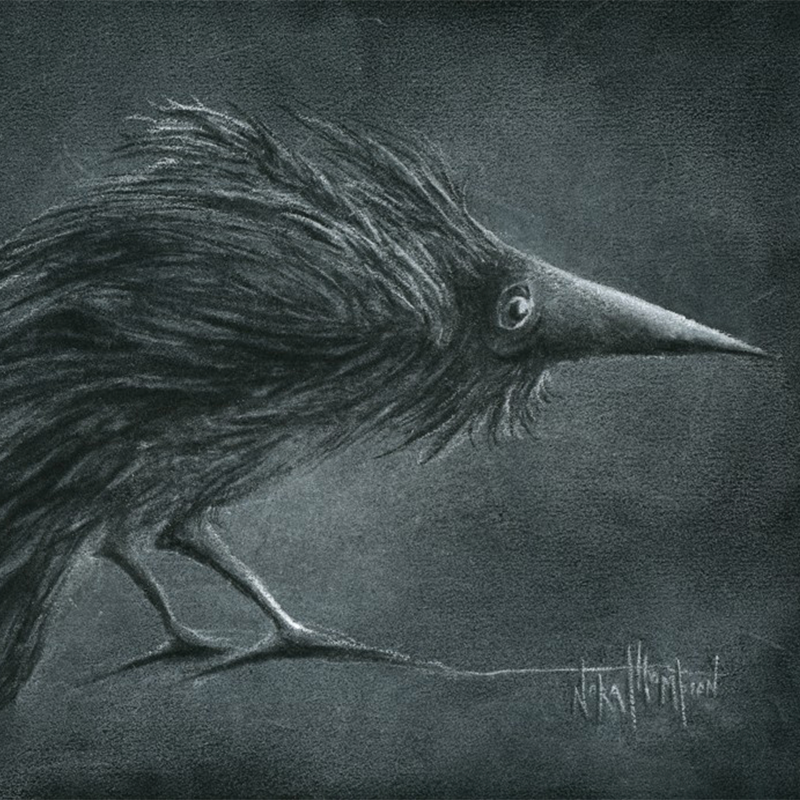 The Rots are some of the most interesting characters we've come across. Are all the artworks on your Doodle Addicts page representative of a Rot? Or is there something that defines them?
Yep. That's who they are. They do have a range, though, from adorably super sweet monsters that would look comfortable hanging in a kid's room (a Twitter follower called them "Ugdorable") all the way to super serious creepy (hopefully) monsters from your nightmares. Sometimes it's hard for me to see how all these disparate creatures are still identifiable as my style, but I've been assured they are.
What other things aside from art inspire you?
Music. Always music. My entire life. It's unfortunate when your first passion isn't what you have a natural affinity for, but I love the job I grew into and can't imagine doing anything else. I've also learned how important it is to head out for a bike ride or a hike to clear out the cobwebs and rejuvenate the psyche. I get cranky if I don't keep that up, and you wouldn't like me when I'm cranky.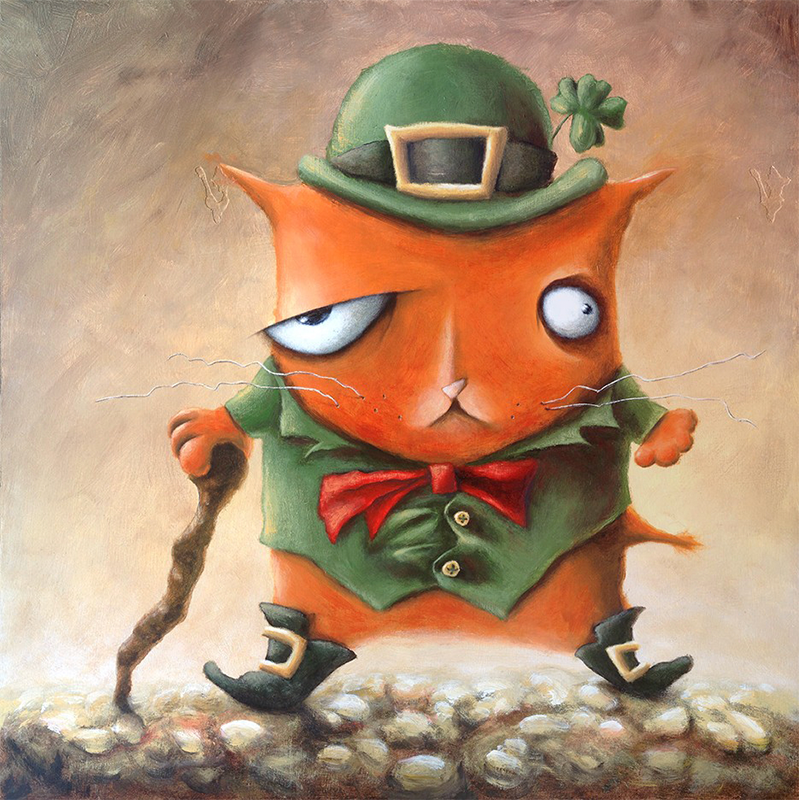 When you are "stuck" in your creative process, what do you do to get you out of the funk?
The more years I get under my belt, the less stuck days I seem to have. I don't usually get stuck coming up with ideas, but I do find myself with "flat" days. I'll try to work on something, but it's just not happening. I know now to just walk away and come back tomorrow. Sleep and food and a fresh perspective always seem to help (along with those bike rides). The business side of the business continually needs attention, so I still have plenty of work to do even when I step away from the drawing table.
What is a tip you'd have for someone who wants to improve their illustration skills?
Draw. Every day. Draw. Draw. Draw. Artists just starting out think they can't do the work without feeling inspired, but unless you figure out how to do it on the days you aren't inspired, you'll never have the skills to get the work done when a deadline is looming. On the days I have to whip myself into shape I think about that old Chuck Close quote: "Inspiration is for amateurs; the rest of us just show up and get to work."
Which artists on Doodle Addicts do you recommend everyone follow?
Jim Bradshaw would always float to the top of my list. His work is easily in the category of doodles, but he goes the extra steps to make each drawing complete. Emra Nation is another one, along with Jon Carling.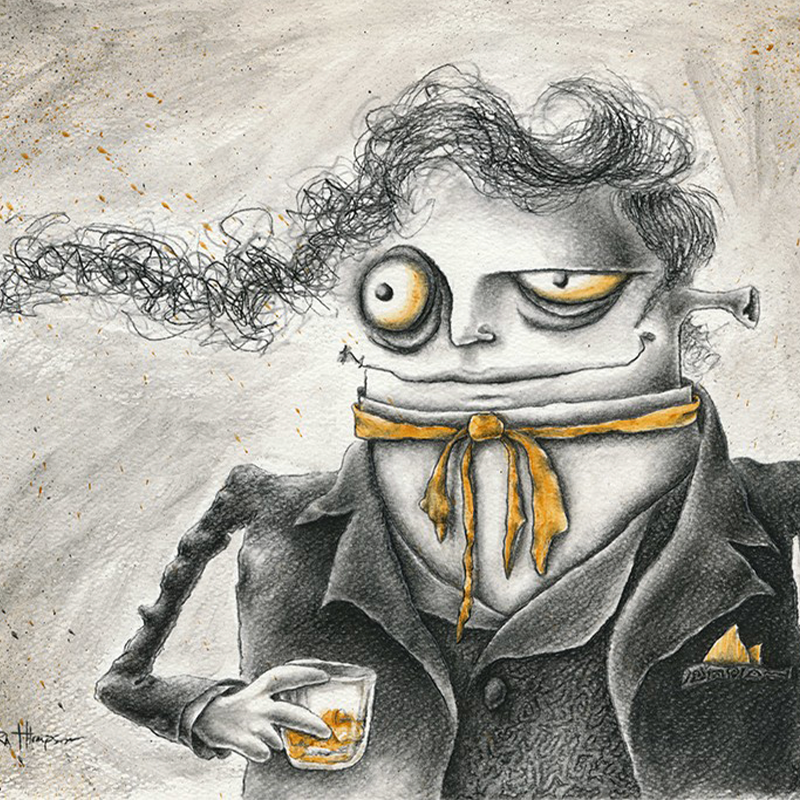 ---