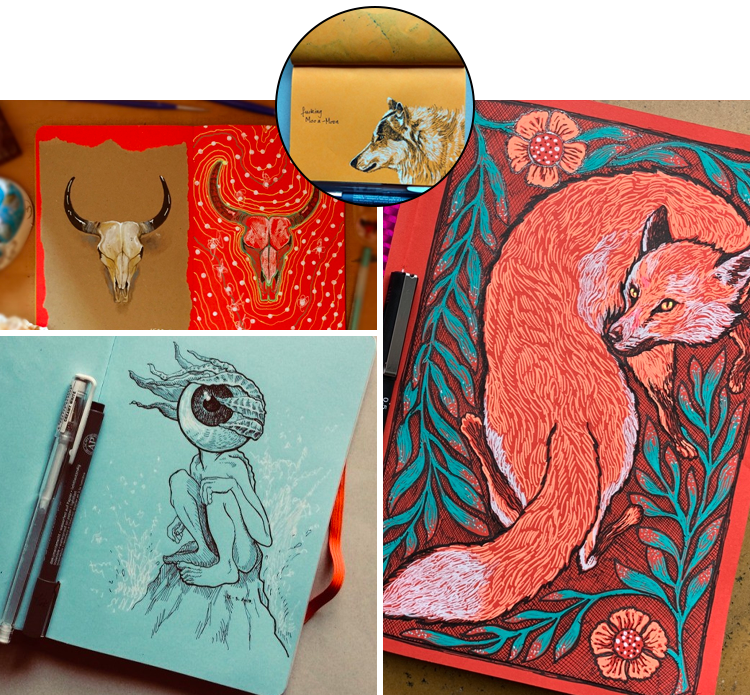 Rhea Daniel is an Indian artist who graduated in textile design. She switched to painting when she began to get requests from friends, and decided to go into it full time. Aside from her commissions she enjoys filling her sketchbooks with art and hopes to produce a larger scale of personal work. She is inspired by dark fantasy art, vintage ephemera and sci-fi, and Indian folk art. You may recognize her artwork on the Doodle Addicts website for the bright colored sketchbooks she's used in the past, or the surreal subject matter she weaves into her work. Whether this is your first introduction to Rhea's work, or you've been an avid fan since the beginning, you're in for quite a treat!

Taking a glimpse at the artwork Rhea has uploaded to the Doodle Addicts site gives you a good idea of how talented she is, along with how far-reaching her imagination is! Although her work can vary from her sketchbook series, to portraits of animals, and then to artwork showcasing themes like a man with an octupus for a head - her style is very much hers and is distinct to the point of easy recognition among the other artwork we see on our platform from day to day. Some of our favorite works of her's come in the form of her pastel sketchbook art, a collection of work that encompasses the essence of surrealism juxtaposed with the brightness of the paper creating a series that can be defined as nothing short of captivating. One such piece, titled "Crown," depicts a human-like creature with an eyeball for a head and a tentacle crown sitting atop a rock with waves splashing behind it. Although it's just linework in a sketchbook, there's something so enthralling about it that it's hard to look away!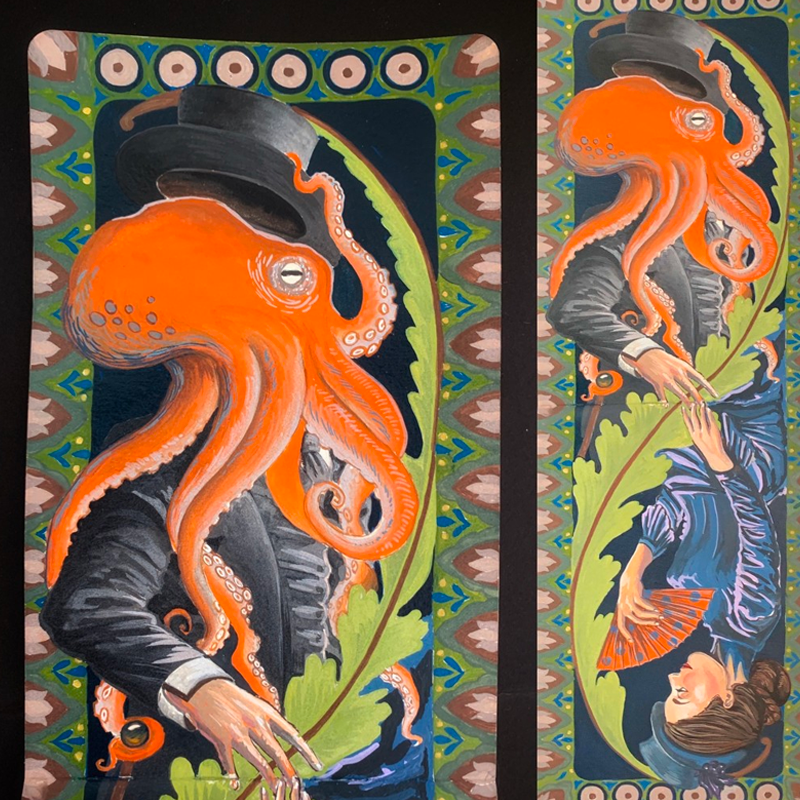 Keep reading to hear more about Rhea's art practice and what drove her to her practice.
Interview with Rhea Daniel
We are always so impressed with your ability to incorporate uncommon and surreal themes within your art! What would you say is the main driving force behind what you depict in your work?
I was an avid fantasy/fairy art fan and there was a point when I was going through a very long artist's block during which I found it very difficult to draw at all, and the surrealism angle gave me a good reason to pick up the pencil. I had no particular idea of where I was going and drew whatever excited me. Instead of looking outward, I began to dig deep and some weird stuff emerged, and I got out of my rut.
It seems as though you're well versed in using various tools and mediums, do you have one that you prefer or is it dependent on the work you're creating?
Well, now it definitely depends on the work I'm creating. Earlier, I used to get so distracted deciding which sketchbook I should use and which medium to create the image I had in my mind, that sometimes I'd forget what I intended to draw in the first place! My thought process has become a lot clearer now. I'm best at using fineliners on toned paper, as most of the sketchbook art in my gallery will show, but gouache is taking first place in my favourite mediums, especially for larger artworks.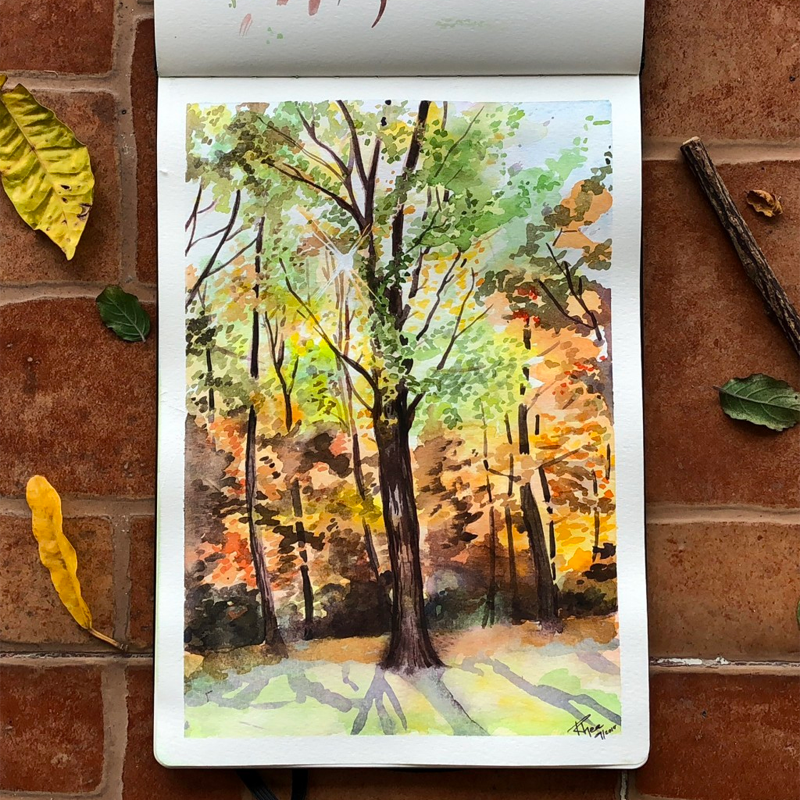 It's been exciting to see how the work you've uploaded to the site has developed over time but your individual style has always shone through. Has there been anything specific that's pushed you and your work to where it is now?
I truly appreciate you guys watching me grow! I'd love to say something or someone inspired me, but it was just my love of art and artists in general. To list my top weirdos, I'd say Brom, Grünewald, Virgil Finlay (the actual list is very long). Otherwise I just went from one genre to the other, from fairy tale art to comic book art, fantasy art to concept art and then to Indian folk art and retro sci-fi art. I suppose that's how I found that pop surrealism fits me best because that's where I can put all these elements together.
Some of our favorite work of yours come in the form of the pastel sketchbook illustrations you've uploaded. What prompted this body of work?
Probably the sketchbook itself. Something about the pale pastel pages needed something bizarre to set them off, and then it just went from one drawing to the other. The stationery company doesn't make them anymore and I haven't been able to find a sketchbook like that since, so I guess I'll have to find the paper and make one myself!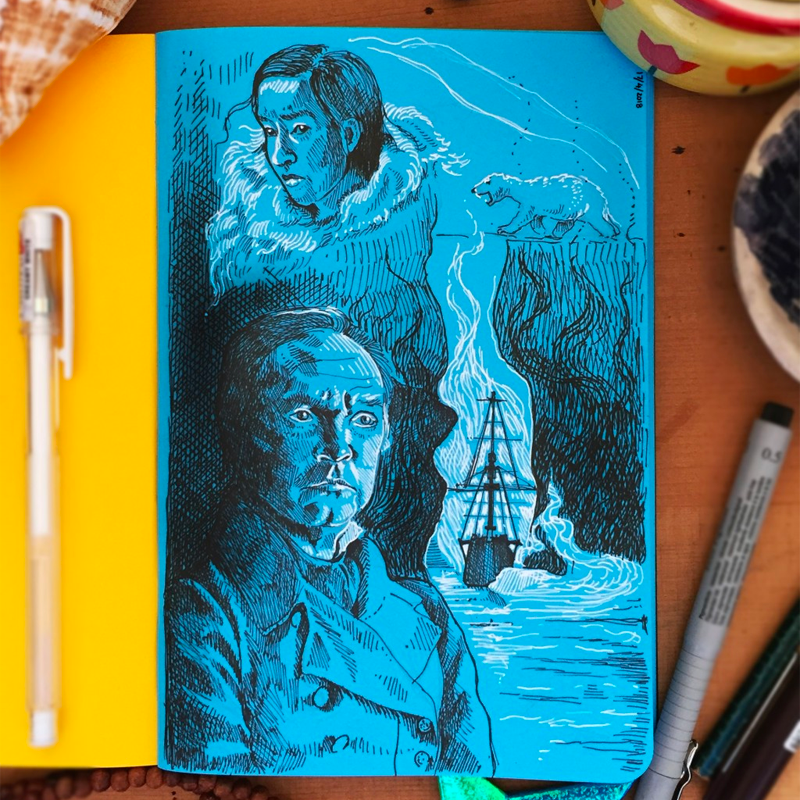 What is a basic and advanced tip you'd have for someone who wants to improve their skills?
I'd say don't be too ambitious at first. Get right down to the basics: form, structure, lighting. Draw mundane objects until you learn to see like an artist. Some of the books that really helped me in the beginning were Drawing with Your Artist's Brain by Carl Purcell and The Natural Way to Draw by Kimon Nicolaïdes. Keys to Drawing with Imagination by Bert Dodson is an excellent guide for people who want to learn to apply both skill and imagination together and open that channel from mental vision to paper.
Which artists on Doodle Addicts do you recommend everyone follow?
Naomi Vona's collages definitely capture the eye - I love the dynamic application of dots and dashes around her choice of vintage photos to tell a story. Ms. Wearer's psychedelic visions with Posca markers (another favourite medium of mine!) are a delight to behold. Kristen Solecki's gouache artworks are consistently charming and I love her use of a muted palette. I recently discovered Melissa Scheu's surreal, dark fairy-tale artworks and was immediately fascinated.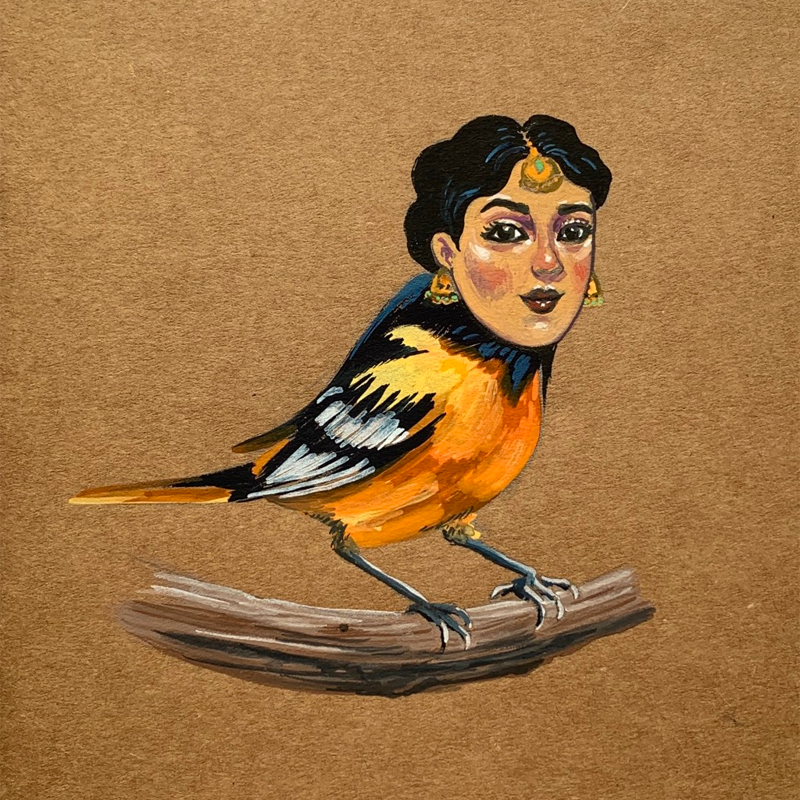 ---