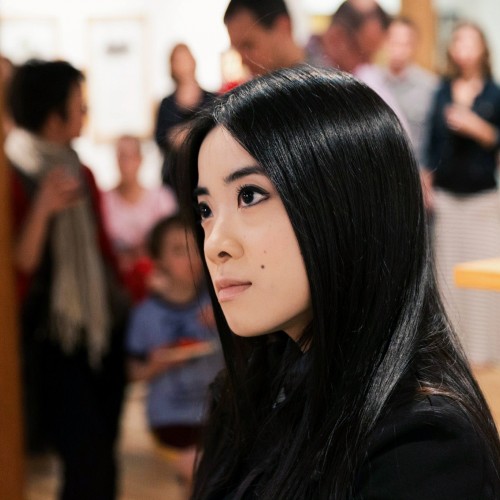 Hello, my name is Jenny Lam,
and I'm a doodle addict.
Chicago
Hailed as a "polymath wave-maker" and "a pioneer of art that is interactive, collaborative, and as much fun for viewers as it is for artists," Jenny Lam is a critically and publicly acclaimed award-winning self-taught multidisciplinary artist, artist agent, independent curator, writer, troublemaker, [pre-pandemic] globetrotting polyglot, former precocious child, current child at heart, INTJ, and all-around nerd. // The Chicago-born Chinese American daughter of immigrants from Hong Kong, she graduated from Columbia University in New York City, where she was the President of Postcrypt Art Gallery, a student-run organization that served as the only space dedicated to the exhibition of undergraduate art at Columbia, providing young artists and curators with opportunities regardless of their involvement with the school's Visual Arts Department. After earning her BA, she returned to the Windy City, where she founded Artists on the Lam in 2011. The site for this enterprise, which garnered an international following, was voted "Best Local Visual Arts Blog" in the Chicago Reader's Best of Chicago issue. // With a mission to make art accessible and a vision to bring people together, she has independently curated interactive shows like the groundbreaking—and rule-breaking—exhibition I CAN DO THAT, which featured artists from all over the world and was voted the audience choice for "Best Art Exhibit" in the 20th anniversary edition of NewCity's Best of Chicago issue in 2012. Such imaginative exhibitions not only challenged guests to think beyond common misconceptions about art and step outside their comfort zones, but also broke barriers, built community, inspired people to see the world anew, and demonstrated that art is for everyone. // Her own art—equally as thought-provoking and community-focused as her curatorial work—has been exhibited at places like the Chicago Cultural Center and the Chicago Public Library. A lifelong artist who has been drawing for as long as she can remember, she is the 1st Prize Winner of the National Park Service's Centennial Project. She is also the creator of Dreams of a City, an ongoing city-wide participatory public art and mapping project for which she was awarded the Individual Artists Program Grant from the City of Chicago's Department of Cultural Affairs and Special Events. Exploring the effects of geographical boundaries while finding connections, amplifying different voices, and bridging the distances between us, she originated this data-driven postcard project in 2008 in Manhattan and revitalized it a few years later in Chicago, where it continues to this day as a labor of love, a love letter to the city, and a message of hope. // Jenny has curated exhibitions at venues like the renowned Zhou B Art Center and guest judged shows at galleries like Line Dot Editions and Water Street Studios. She has served as the Head Curator of 4Art Inc. Gallery, and she has written extensively for Time Out and Sixty Inches from Center and been published in the graphic novel anthology New Frontiers. She has spoken at a Leonardo LASER Talk about resilience, at Facebook Chicago about media representation, at Startup Art Fair about "What Matters," and on a panel about "Writing in the Margins," building platforms for folks whose work doesn't adhere to mainstream arts narratives; performed at the Museum of Contemporary Art Chicago and 20x2 Chicago; conducted Visiting Artist Workshops at the Chicago Children's Museum; conducted portfolio reviews at Harold Washington Library's "Get Archived" event, which empowered artists with the opportunity to "take ownership of their place in [their] city's cultural history"; and been featured in the political documentary Transition to Power and on PBS, The Huffington Post, PetaPixel, Fstoppers, Character Media, AsAmNews, I Am New Generation, Women Direct, WGN, WBEZ, Crain's, South Side Weekly, DNAinfo, Block Club Chicago, Chicagoist, Gapers Block, Gozamos, and more. // Her photography—all shot on her iPhone 5s—has been featured in exhibits around the world and on Guardian Travel, NZ Herald, Buzzfeed, Atlas Obscura, Mashable, Matador Network, Folk Magazine, Choose Chicago, Enjoy Illinois, Hong Kong Tourism Board, RedEye, Asia Art Archive, Untapped Cities, Tiny Atlas Quarterly, Bruxelles Art Vue, ArtAscent Magazine, and more. // Fun facts: Jenny is her full, legal name—not Jennifer; her Chinese name is 林嘉祺 (Lam Ga Kay in Cantonese / Lin Jia Qi in Mandarin), with 嘉嘉 (Ga Ga in Cantonese / Jia Jia in Mandarin) as her family nickname; and English is technically her second language—she taught herself English as a baby by watching Sesame Street. // In her youth, Jenny had: founded a free English tutoring program called New Horizons for immigrant children in Chinatown at the age of 16; interned at Christie's; volunteered as a mentor to students in Harlem; gone tagging; crammed a thousand college kids into a Brooklyn bathhouse for an underground music and multimedia festival called Collision; trained the next / current generation of troublemakers as a summer camp counselor; received complaints from OSHA for constructing a 12-ft.-tall sculpture in a stairwell; lived in Germany for a foreign exchange program, an experience slightly different from winning a trophy at a German poetry competition a few months earlier; participated in [the swimming segment of] a triathlon; bleached a jar of human teeth (and won science fairs for it); won piano competitions; had her short story "Firebreath"—a civil rights allegory of dragons rising up against their human oppressors—published at the age of 13; and politely declined a job offer as a storyboard artist at Walt Disney Animation Studios, telling the director she "would want to attend college first," at the age of 8. // She can't whistle. // Read more at http://www.artistsonthelam.com/about & http://artistsonthelam.blogspot.com/p/about_10.html
---
I specialize in acrylic, art, black and white, doodling, drawing, fine art, graphite, illustration, mixed media, oil, painting, pastel, pen and ink, pencil, photography, portraits, printmaking, sculpture, sketching, women, writing.
---
Jenny Lam has not set any favorites.