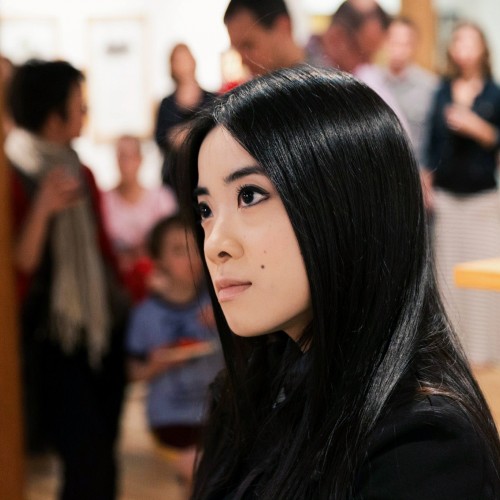 Hello, my name is Jenny Lam,
and I'm a doodle addict.
Chicago
Hailed by Gapers Block as a "polymath wave-maker" and "a pioneer of art that is interactive, collaborative, and as much fun for viewers as it is for artists," Jenny Lam is a critically and publicly acclaimed multidisciplinary artist, artist agent, independent curator, writer, traveler, and all-around nerd. She is the Chicago-born Chinese American daughter of immigrants from Hong Kong, and she graduated from Columbia University in New York City, where she served as the President of Postcrypt, Columbia's undergraduate art gallery. After earning her Bachelor's, she returned to the Windy City where she founded Artists on the Lam in 2011; championing local artists and channeling global perspectives, the site for this enterprise garnered an international following and was named "Best Local Visual Arts Blog" in the Chicago Reader's Best of Chicago issue. With a mission to make art accessible and a vision to bring people together, she has independently curated interactive shows like I CAN DO THAT, which featured artists from all over the world and was named the audience choice for "Best Art Exhibit" in the 20th anniversary edition of NewCity's Best of Chicago issue in 2012. Such imaginative exhibitions not only challenged guests to think beyond common misconceptions about art and step outside their comfort zones, but also broke barriers, built community, inspired people to see the world anew, and demonstrated that art is for everyone. Her own art—equally as thought-provoking and community-focused as her curatorial work—has been exhibited at the Chicago Cultural Center and the Chicago Public Library, and she is the 1st Prize Winner of the National Park Service's Centennial Project. She is also the creator of Dreams of a City, an ongoing large-scale participatory public art and mapping project for which she received the Individual Artists Program Grant from the City of Chicago's Department of Cultural Affairs and Special Events. Exploring the effects of geographical boundaries while finding connections, amplifying voices, and bridging the distances between us, she originated this data-driven postcard project in 2008 in Manhattan and revitalized it a few years later in Chicago, where it continues to this day as a labor of love, a love letter to the city, and a message of hope. Read more at http://www.artistsonthelam.com/about & http://artistsonthelam.blogspot.com/p/about_10.html
---
I specialize in acrylic, art, black and white, doodling, drawing, fine art, graphite, illustration, mixed media, oil, painting, pastel, pen and ink, pencil, photography, portraits, printmaking, sculpture, sketching, women, writing.
---
Jenny Lam has not set any favorites.