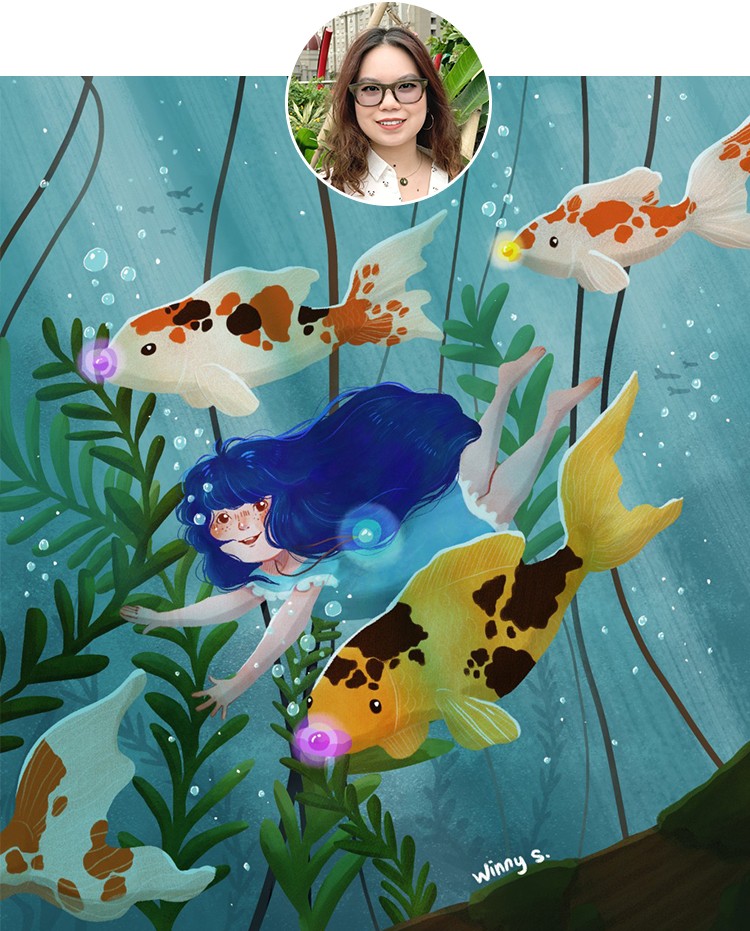 Winny Sumbada is an Indonesian illustrator currently living in and working out of California. Sumbada is not shy about sharing her love of painting and drawing with the world and we're all better off for it. Sumbada's work is full of color and fun character design and I can't believe she hasn't been commissioned to illustrate a children's book yet. Seriously, check this out.
The one word that best describes Winny Sumbada's artwork, for me, is joy. Even pieces of hers that are tending towards the darker side of existence still have this underlying sense of joy about life and in 2019, joy can often be in short supply, so this is the kind of artist we need. One of my favorite pieces of hers, posted as, "What are you watching?", is a perfect example of the general characteristics of a Sumbada drawing.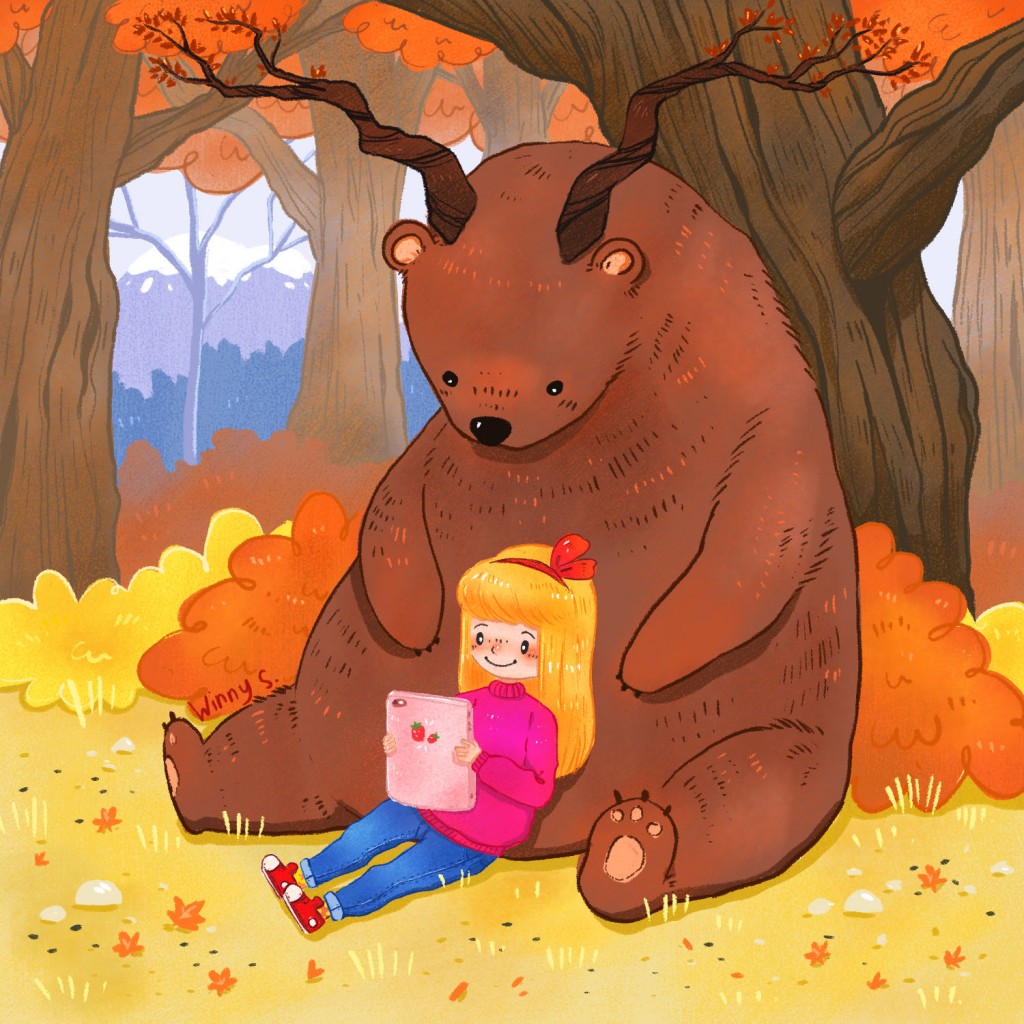 In this piece the viewer is treated, and I emphasize, treated to an adorable little girl sitting on the ground watching something on a tablet in the woods, surrounded by bright yellows and oranges with the trees and a soft blue/purple shade in the background scenery. The colors are saturated and vivid like your favorite storybooks, everything Sumbada does has a storybook feel in the best way. Even her character design. The little girl is a simple figure with a similarly minimalist approach to detailing the features of her face. It's basically a smiley face with freckles and it works, it's just plain cute. All of Sumbada's characters are rendered in this signature way, simple, vivid and cute. And I left out the best part, the pure fun of her imagination. In this particular piece, the aforementioned little girl is watching her tablet while leaning against a big ol' bear as seen through Sumbada's eyes, simple and cute with tree branch horns atop it's head. Like I said, just plain cute. There is nothing that Winny Sumbada can't make cute. And, she freelances. Got a thing you want to make cute? Hit her up!
Interview with Winny
Your art is very light-hearted and warm. What draws you towards this kind of art style?My art style is not always like this until around two years ago when I took interest in children's book. I like how most of them have this warm, fuzzy feeling whenever I look at them and I really want it to be in my art too.

What are some of your favorite art tools you use when creating your art? What do you like about them?
I like to use digital art tools, especially Adobe Photoshop, Clip Studio Paint and Sketchbook (Autodesk). They're wonderful, whenever I made mistakes, I could easily fix and delete them! Sketchbook is pretty useful when you want to check the perspective of your work. Occasionally, I like to use watercolor and gouache too, just to change my working pace a little bit.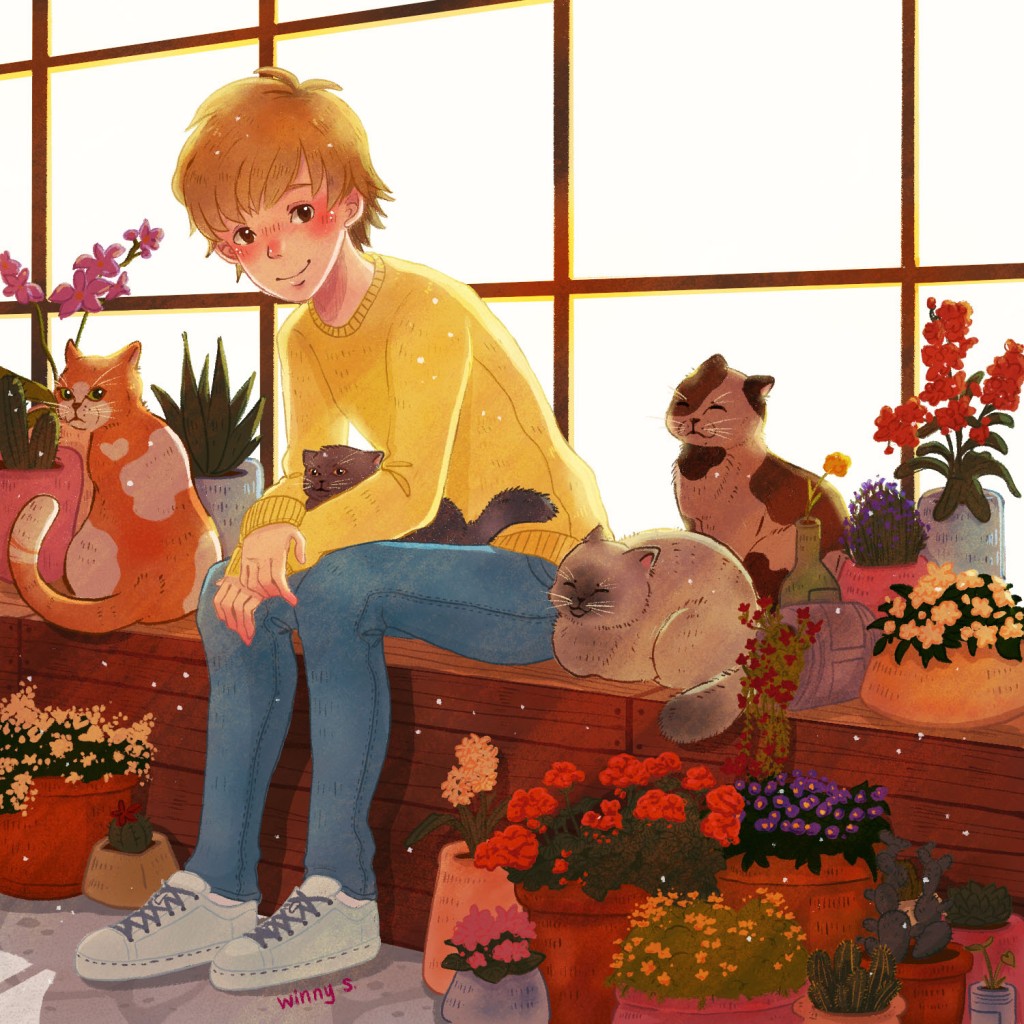 How did you get so good at coloring?
I really love colors and I'm still learning how to use them on different setting. I just keep practicing!

When are are "stuck" in your creative process, what do you do to get you out of the funk?
I usually do a sketch or two on things I really like the most, in this case dogs! They didn't need to be pretty or anything, I just draw them for the sake of me being productive and sometimes ideas just pop up out of nowhere! If it didn't work out, it's time for a break and stay away from my work desk. I usually watched TV, playing games, and browse other artists on my phone hoping I could be inspired by their works.


What is a basic and advanced tip you'd have for someone who wants to improve their illustration skills?
Don't be afraid to copy other famous artist's work, but don't claim it as your own! By copying, you're learning to have a better understanding on how the color, light and composition works. Or you can watch a movie, pause at one scene, then try to draw them instead. Keep practicing and don't be hard on yourself, do it at your own pace!

What do you get inspiration from? What drives you?
I got my inspiration mostly from movies, cartoons, my own dreams, and even something that I suddenly stumbled on internet. I have been drawing ever since I could remember and it all started when I took interest in anime. I think that's why most my artworks still have some anime features on them, especially their faces.


Which artists on Doodle Addicts do you recommend everyone follow?
There are so many! Anne Keenan Higgins, Kathryn Shuff, Dzikawa, and Kevin Loftus to name a few. Check them out, they have different kind of illustrations than I do and I think they're beautiful.
---