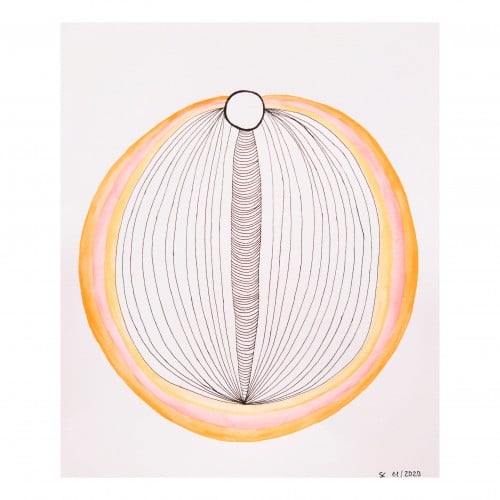 Hello, my name is Sandra Kluge,
and I'm a doodle addict.
I am a self-taught artist from Northern Germany. Yellow is my soul color and I love anything that's tiny, cute, and beautiful. This trifecta is a golden thread throughout my work that encompasses drawings, collages, surface designs, cartoons, and occasional acrylic paintings. With my work, I want to celebrate the beauty of life that exists even in our darkest moments. For me, the appreciation of beauty is a vehicle to deeply connect with one's own inner light and therefore project love, kindness, and openness into the world. I want to be anything but literal. My pieces are abstract depictions of highly nuanced feelings and mind spaces that allow the viewer to create their own personal relationship with the work. Recurring themes in my art are mindfulness and meditation, self love and the inner child, abstract nature elements and landscapes, and duality and "and"-consciousness – often with a dash of humor and cuteness. I work quickly and intuitively, improvising and remaining open to what the materials want to do.
---
---