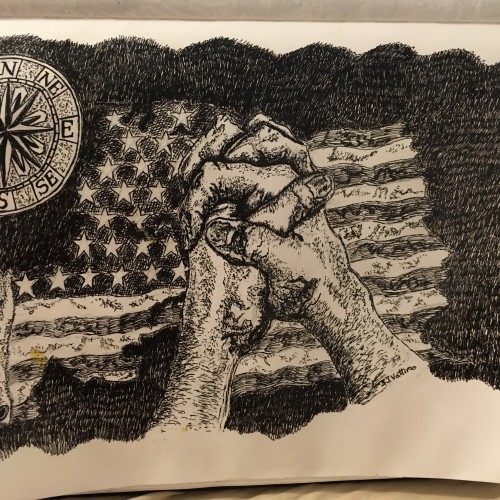 Hello, my name is Stephen,
and I'm a doodle addict.
Bridgeport Pa.
Stephen J. Vattimo was born in Norristown, Pennsylvania in the year 1965, and grew up in a private boarding school, the Pathway School, in Audubon, Pennsylvania. He attended Plymouth White Marsh High School in Plymouth Meeting, Pennsylvania, and Central Montgomery Vocational Technical School in Norristown, Pennsylvania. He graduated from both schools. While in high school, he was an active member in the U.S. Air Force Auxiliary Civil Air Patrol. A year after high school, he enlisted in the U.S. Army Reserves as a combat engineer. A year and a half into his enlistment, he transferred to the U.S. Army National Guard, where he became an antitank TOW missile crew man. In 1989, he enlisted in the U.S. Army (regular) as a combat medic. He was one of the nine medics serving an M.L.R.S. Nuclear Covert Tactical Unit in Giessen, Germany. In 1991, he was stationed at Fort Lewis, Washington, with a field medical clearing company, supporting the First Green Beret and the Twenty-third Ranger Battalion. Stephen made the decision to leave the military to have employment in the civilian world to be able to have more time to pursue his art and poetry. Stephen attended Citadel Bible College from 1986 to 1987. He has been a volunteer summer missionary a couple of times with Overseas Christian Servicemen Center, which is now known as Cadence. Over the years as a civilian, Stephen has worked in the electrical field for fifteen years and telecommunication for two years. He has been creating spiritual art and poetry for twenty years and has been writing spiritual apologetic articles for ten years with the goal to share the hope that is found in coming to faith in Jesus the Christ and the blessed life one can experience in walking with and obediently serving our God.
---
---