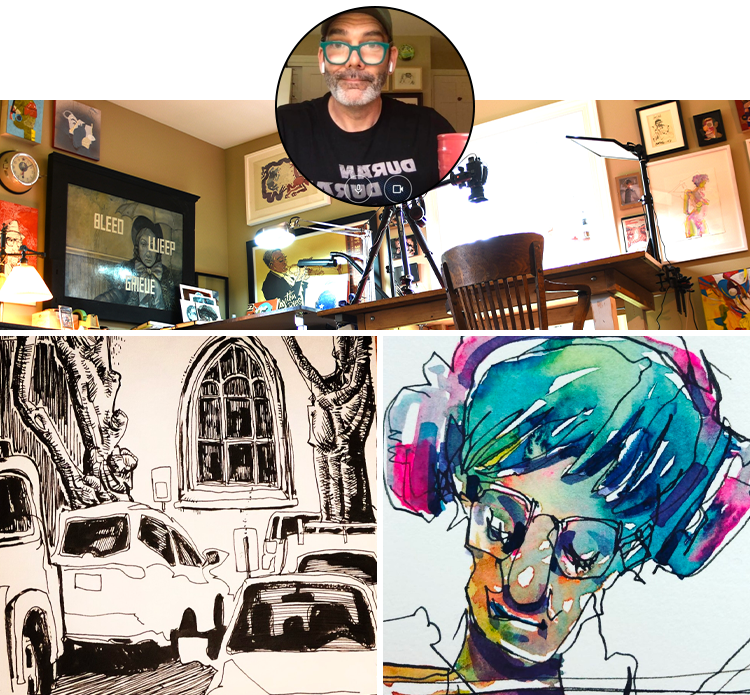 This week's artist spotlight is illuminating the brilliant artwork of David Terrill. He's an artist who has been creating compelling illustration for 30 years and his journey has taken him everywhere from laboring in an Ohio steel mill, to working as a freelance illustrator, and wearing many creative hats in design agencies. David's storied path led to his ultimate destination as Associate Professor of Illustration, Kansas City Art Institute, and part-time Creative Director/Director of Talent at C3, a leading family design agency. Much like the experiences throughout his life, the artwork you may recognize him for on the Doodle Addicts website is varied but ultimately makes up the smaller parts of a beautifully executed wide body of work.

Although we describe David's work as varied, that's not to say he doesn't have an incredibly refined style that's easily identifiable, because that he does! Whether you're looking at one of his pen and ink drawings, an acrylic painting, or even one of his watercolor artworks - you'll quickly get a sense of both his capabilities and utter talent. One thing that has always stood out to us with his work are is his portraits. The elongated faces and sharp features, often accompanied by an interesting technique, results in incredible pieces of art that at first glance can be immediately attributed to David's artistry. There are so many good examples of this within his work, but one of our personal favorites is the collection of art titled, "Claybord Illustration Experimentation." As if mastering one subject matter isn't tough enough, David also creates exceptional sketchbook spreads, landscape illustrations, Adobe Fresco experimental drawings, collages, and so much more.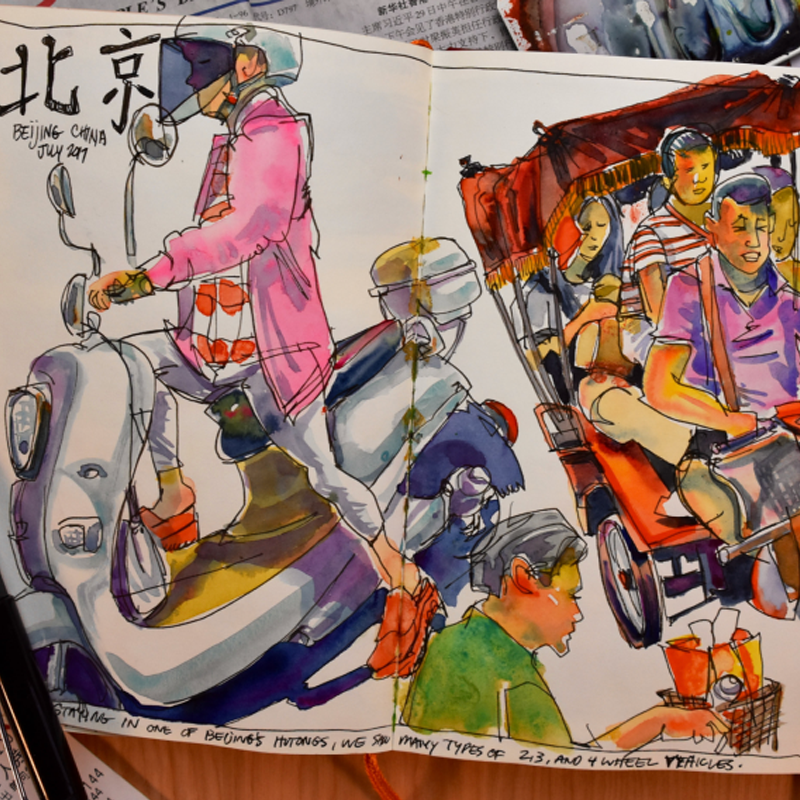 There's so much we could say about David's work, but in an effort to learn more about the incredible mind behind the art, we got in touch with David himself! Be sure to keep reading to take in the awesome tips, resources, and overall expertise of an insanely talented artist who turned their passion into a career.
Interview with David Terrill
As someone who has spent years as an illustrator, and who is now an Associate Professor of Illustration, have you always been compelled to create art or was your practice born out of something else?
Thank you for the opportunity to share my thoughts with the Doodle Addicts creative community.
Art has always been a part of my life. I have always been attracted to drawing and to making things. As a child I wanted to create all the time with anything I could find. I think most of us feel this way in the beginning of our lives. Along the way, as we grow older, something changes for some of us, and we stop making things. We stop feeling compelled. I think the word "compelled" is a perfect description for how I feel about illustration and art. Compelled means to "feel obliged" or "driven to do something". That has always been part of me.
My parents gave me a drawing kit by Jon Gnagy, a TV art personality from the 1950/60s. He was before my time, but the books and art materials (pencils, charcoal, paper stumps, etc.) enabled me to teach myself a few basic fundamentals. Another formative memory is having a six issue set of the Star Wars comic movie adaptation in 1977. I remember copying and copying the stormtroopers in my sketch pad, which at the time was an old legal pad I found in my dad's office. Although with no formal training, my parents supported my creative side and found community art classes for me to take in the small town in which we lived. Later in high school, with no formal art class, I was left to finding my own way. I recall getting into trouble for drawing in class. The sketches would get confiscated by the instructors. I found out years later that my history teacher had kept all of the drawings I had made in his classes. He had loved them. Perhaps it touched a long lost part of him when he used to make art as a child?
Inspiration to make art. I really don't remember the first time I went to an art museum. The illustrations in magazines, comics, books, and the illustrations on the packaging of board games and toys were my first exposure to art of any kind. These objects were my museums. I imagine this exposure took me down my path of making and teaching illustration. My creative journey has not traveled on a linear path, but a wide and varied one; from a steel mill worker, an in-house artist, an editorial illustrator, to a creative director, and now a professor of illustration. All along making art. I am excited and compelled to continue my journey and see what lies ahead.
Your art style is very distinctly yours, but we've always appreciated your ability to explore various subject matter. How do you go about deciding what your next piece will depict?
The world around us gives us everything we need to be inspired. I believe the creation of my next piece in born out of curiosity. The current state of the world, my family around me, the little things that occur in everyday life, all play a role in providing me with my inspiration. All of these moments in time are my muse.
Travel plays an important role as well. Back in the summer of 2017, my family and I traveled to China. I kept a sketchbook of the experience. It really opened my eyes to the world. Ibn Battuta said, "Traveling– it leaves you speechless, then turns you into a storyteller." Travel feeds my curiosity about the world around me, and the curiosity compels me to share my experiences with others.
What are some challenges you've faced with your art or art career and how did you overcome them?
I have had my share of career challenges for sure! For me, these challenges can be broken down into four areas; self-doubt, change, boredom and relevancy.
Don't be a doubter. We are always faced with challenges. From outside and within. Most of us are our own worst critic. We try to live up to expectations we place upon ourselves, beyond those of the industry and the world. Believe in yourself, your work, never quit, and be patient with yourself.
Embrace the change. Over the years I have experienced critics and naysayers. Losing out on a commission, a freelance opportunity, a lay-off, all can be devastating. After experiencing a setback, I let the loss wash over me, mourn it, then step back and take in the altered career landscape. I investigate the new possibilities before me. Each time I have experienced an obstacle to my career, I find myself on the other side of that blockade, better off and happier than before. Teaching presented itself to me via this path. Had I not been open to the opportunity, I would have missed out on the most fulfilling aspect of my career. This enables me to stay relevant, refreshed and inspired. The volume of talent and raw creative power that emits from the students and peer faculty I work with is incredible. These individuals help fuel the fire of my own creative drive.
Fight the boredom. A lack of direction is an issue that troubles us all. This can lead to depression, loneliness, and to feeling a lack of accomplishment. I have found that my artwork is a wonderful way to combat boredom. I can always pick up my sketchbook, tear up an old magazine to make a collage, or make a painting. When you have your sketchbook, when you make art, you're never alone.
Stay Relevant. Don't become complacent with your work or career. Complacency leads to stagnation and impacts how we respond to change. When change comes, and it will, be prepared for it. There have been times when I have become a little too comfortable with a situation, and then, guess what? The situation changes! Oxford dictionary defines relevant as; "the quality or state of being closely connected or appropriate to what is being considered". Stay connected to the industry and to the world around you.
What are some of your favorite tools to use when creating your art?
Drawing is at the heart of everything I do and my sketchbook is my fundamental tool. The marks made on its pages are unscripted, with no guidelines, no safety net. The ink and paint are applied immediately and instantly reflect the world around me. Much like our lives, a decision made in the moment and then we move forward with the best of intentions. The searching lines of the pen, impressions of the brush. Discoveries are made about my art and process, but more importantly, about myself. The beauty is the imperfection of the searching, with no fear and no regrets.
My favorite pen is my Pelikan M200. I also use a Lamy Safari, a Noodler's Ahab Flex Nib, and a Pentel Brush Pen when I draw. I use Noodler's Black Bulletproof Ink (waterproof) along with my watercolor paint. My palette is made up of Daniel Smith, Holbein and Winsor Newton paints. My current sketchbooks are the Travelogue/Handbook (various sizes) distributed by Global Art Materials here in KC. I like the drawing weight as well as the heavier watercolor weight of papers. My favorite watercolor sheet is Arches 140lb hot press. Both these materials take the ink and watercolor well.
I am always on the lookout for new art materials to try out. Recently I have started making work with Ampersand's Claybord substrate. It is a multimedia substrate that takes ink, watercolor, and soft body acrylics. The substrate can be manipulated with drawing, paintings and scratchboard techniques. I also enjoy integrating collaged ephemera into my work as well.
Commercially, I have always utilized Adobe Photoshop, Illustrator and the other Abobe Creative Cloud programs in my illustration work. I have recently started creating illustrations on the iPad using an Apple Pencil and Adobe Fresco and Procreate Apps. The natural media brushes and ease of use have changed the way I make some of my work, especially when time is a constraint.
Art supplies for me are a bit like looking at the dessert tray at the end of a meal, I want to try them all!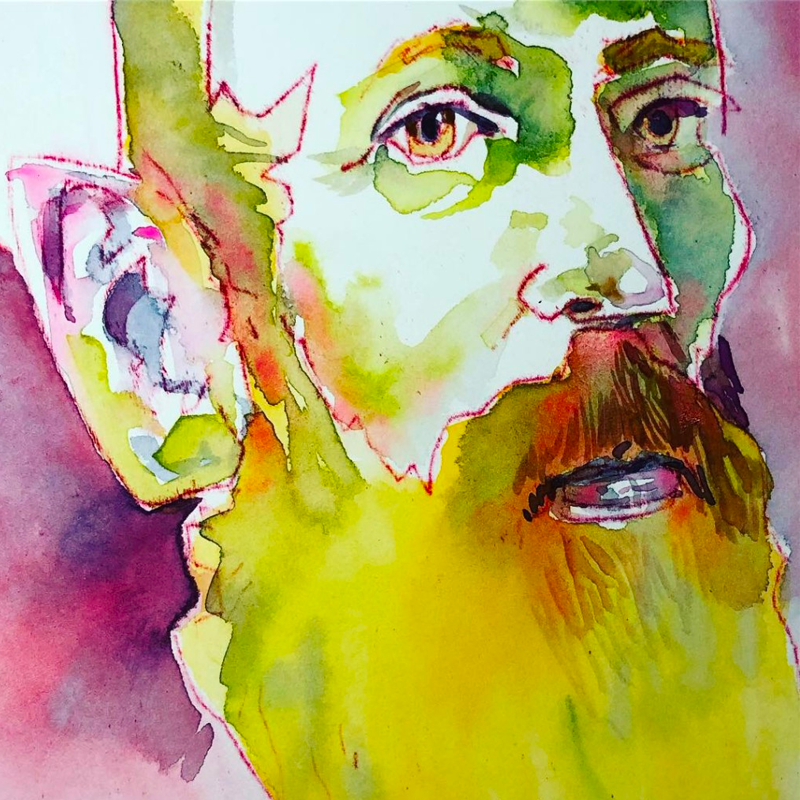 What are some suggestions you'd have for someone looking to make a career out of illustration?
Illustration is everywhere. A career in this discipline is hard work, but rewarding. The field is ever evolving and can't be defined as simply as it has in the past. Keep an entrepreneurial mind and spirit as you enter the field.
Make sure you are creating the type of illustration and art you enjoy. A client will recognize the passion and drive you bring to your artwork and illustration. Make sure it is of a style/genre/subject you enjoy, because you will be doing it every day as a commercial illustrator. Everyday. Find this direction and build a strong portfolio of work from it. This is why someone will hire you.
What kind of illustrator do you want to be? A traditional freelance illustrator? A creative agency in-house illustrator? An entrepreneurial illustrator with your own on-line shop? A little bit of all of these? None? What areas of the field do you want to focus your energies? Editorial, agency, corporate, character design, comics, medical, an entrepreneur with a completely new focus? Research these areas and become an expert.
Look at the landscape of the genre you are interested in pursuing. Who is your competition? What is being done right? What could be done better? Be targeted with your client inquiries and always make sure your work is a fit for the clientele you approach. Your time and their time's very valuable, you don't want to waste either. Possibly look for a niche in an industry genre that you can own and isn't being addressed at this time.
Always be a professional. Stay with it. Hang in there and don't quit. It takes time and patience. I have known a few incredibly talented folks who did not stick with it and are not working in the field anymore. On the other hand, I know a number of moderately talented folks who are working hard, staying focused on their goals, and have found great success.
Success. A pretty broad definition. I may define success much differently than someone else does. Don't fall victim to letting another's definition of success gauge your own. My idea of success is a balanced life as a father, husband, artist and teacher. How do you define success? Only you can answer that question.
The career basics. Be Curious. Work hard, show up early, hit your deadlines, and be someone people want to work with. Play well with others. Network. Networking isn't a bad word, it is basically making acquaintances and (sometimes) friendships in the industry you work in. Make great work, share your work, meet people, ask questions, answer questions. Enter Competitions (great exposure). You will be surprised what will come of it.
Illustration is a business. Educate and protect yourself. Contracts, pay rates, time management, and taxes.
A good place to start is The Graphic Artists Guild Handbook: Pricing & Ethical Guidelines, 15th edition.
https://graphicartistsguild.org/product/the-graphic-artists-guild-handbook-pricing-ethical-guidelines/
With all that being said, stay flexible, adaptable, and nimble. Be relevant to what you are doing. Stay fresh. I have had to reinvent myself a number of times over the years. Tastes change, markets change, and the world changes. Look to the world around you for cues for the next step. Be open to the new challenges before you and don't be afraid to meet them confidently!
One last thing. Help others when you can. We are all in this together.
Which artists on Doodle Addicts do you recommend everyone follow?
I enjoy the diversity of the Doodle Addicts community, its members from all over the world with various levels of experience represented. I find it to be a very inspirational and exciting forum. Below are a handful of artists I recommend you follow.
Take a look at Sabina Hahn's humorous and whimsical situations, followed by Slavica's wonderful use of pattern, composition, and fabulous use of greyscale. Check out Chris Fraser's dense linework and beautiful world building, and wow, those creatures! I really enjoy Diana Koehne's lovely color palette and playful characterizations of people along with Leib Chigrin's beautiful black and white chiaroscuro portraiture. Rolf Schroeter's vibrant reportage linework is stellar, as is Cecilia Ruiz's design, pattern and composition. Jeff Dowdy is a favorite with his sophisticated reportage-style drawing along with Gary Bernard's spot on caricatures. Vin Ganapathy's delivers with all-around impressive sketchbooks. Rounding out my list is Petra Ferweda's sophisticated use of pattern, shape color and line, with Travis D. Hendrix's exciting calligraphic illustration style. There are so many more exceptional artists that are a part of this artist collective, take some time to explore them!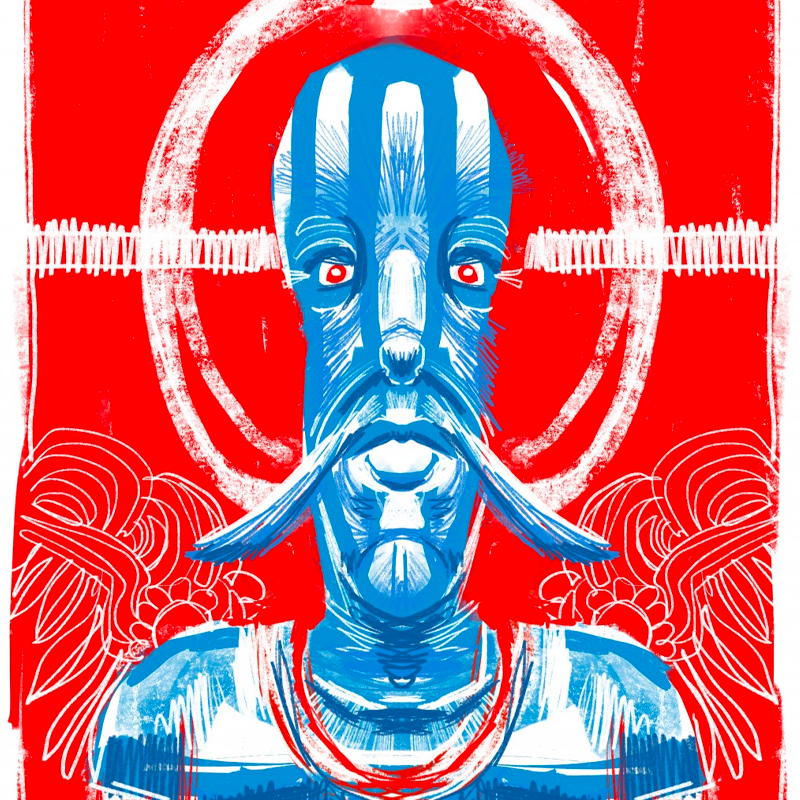 ---