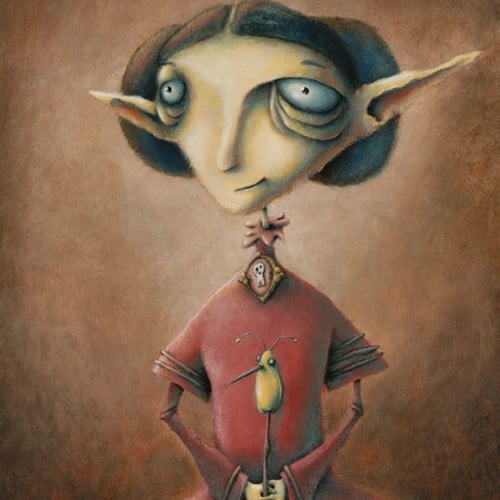 Hello, my name is Nora Thompson,
and I'm a doodle addict.
Pittsburgh, PA
Plus
I'm an all-around artist, partly out of necessity and partly out of the need to explore new things. I'm an illustrator, graphic designer and fine artist, and I also write. I love playing with new mediums, and for some reason have amassed enough sketchbooks to last me the rest of my life. Each one has a theme, and I love finding new ways to fill them. Most of my art for most of my life never ventured very far outside the lines, but something sparked in 2006, and I started drawing these crazy little characters that were just for me. They were pretty raw, but eventually they developed into what became The Rots. When I draw a Rot, I usually start with something spontaneous and see where it takes me, and almost all Rots start with the eyes. Although I could point to any number of influences, a lot of other people have made their own connections and have compared my work to Edward Gorey, Charles Addams and even Tim Burton. Although I mostly agree with those, I would definitely need to add Ralph Steadman, Gris Grimly, Jim Kay and Shaun Tan as inspiration. Since the beginning I've been doodling new Rots on napkins at restaurants while we wait for our meals to arrive, and many of those doodles develop into paintings or drawings. I've gotten a lot of finished artwork out of those napkins, and I wanted to push that idea even further. So in 2013 I started drawing a new Rot every day during the month of October to post on my social media sites, and some of the better ideas continue on into an afterlife as a painting. I like playing with mediums I've never used or haven't played with enough, and I'm always drawn to graphite in every form I can find. Sometimes I use ink and ink washes to draw, paint and splatter on mixed media paper. It's kind of messy. I get ink everywhere. I put paper down.
---
---